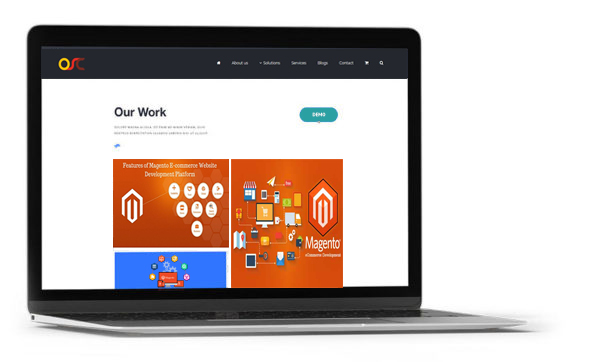 Magento Development Service
There are many companies providing Magento development services. The most important challenge for a store-owner is how & whom to select.
Here are some pointers to be considered which shortlisting & concluding on your development service provider.
How many years had been your service provider in eCommerce industry?
Will your service provider exist even after two years?
Is he aware of present eCommerce industry standard?
Can he scale up your website as and when needed. Will he be an engine for your store growth?
Does your service provider have the edge of a in-house solution specialist?
Is your service provider able to understand your business model & Will be in synergy with your objective?
Does he understand security & privacy policy. Will he adhere to the standard practice?
Is he aware of ready solutions that can add value while not being costly but still of high quality.
Is the team available on call for urgency 24/7 and can they take normal service calls within one working day.
Do they have skilled architects and certified developers?
Are they process focused while keeping the cost to an acceptable level?
Do they have all the skills needed for an eCommerce site?

Hosting
Security
Design
Development
Solution Specialist

Is the service provider having an ethical track record?
Time difference.
Fluent in language & communication.
While all above aspects are very important. ROI and growth are the two most important and driving aspect.
Why Oscprofessionals as your growth partner:
We score positively almost on all the above points.
Our shortcomings are we being in India might result in time difference for US companies but we scatter our working hours to fill this gap.
We are good with English but might struggle on other languages.
In-house certified developers, solution specialist & certified security experts.
Oscprofessionals & ROI:
As we have been working extensively on Magento 1 & Magento 2 so we have knowledge of most of the aspects for a B2C & a B2B site (even for Marketplace) so we will not be charging for research but will be straight away getting solutions in place or resolving quickly, while making sure details are taken care of.
This means number of hours we will charge compared to other service provider will be less in most of the services we deliver.
To add to above we have lots of in-house developed solutions to deliver work faster which being economical.
Oscprofessionals for growth:
Oscprofessionals has resource that are both certified developers & solution specialist. This combination helps in analyzing things in the right perspective & implementing acceptable solutions that's upgradable and will not have any cascading effect.
We do have extensive skills on following:
Performance Optimization (TTFB < 1.0 seconds, Site download < 4 seconds, Score > 80 (Green))
Security
Quality responsive code (Adaptive)
Web usability
Maintainable & upgradable code
Site Audit skills
As we work with many stores we do have knowledge that can help you on challenges like shipping solutions, digital analytic, SEO which in turn means more traffic & higher conversion.
To add to this we can suggest hosting that will for sure save on your yearly hosting charges. Also if bandwidth cost is what's worrying you then we can help reduce this considerably to make you save on hosting service charges.
We can provide a free no obligation site Audit(Performance & Security)
Contact Us for Magneto Development Service