Social Media Marketing for Ecommerce
What is Social Media Marketing?
Social Media Marketing uses platforms such as Facebook, Instagram, TikTok, Snapchat, and Pinterest to promote a brand, its products, and services.
Businesses usually promote themselves through Organic Marketing and Paid Marketing.
Organic Marketing posts content of different forms regularly to gain followers and sales. In contrast, Paid Marketing focuses on advertisements and influencer endorsements.
The types of content businesses use to promote themselves differ from industry to industry. For example, a luxury brand like Hermès may prefer text marketing over video marketing.
In contrast, a real estate or travel and hospitality sector business will opt for video marketing.
7 Social Media Marketing Tips for Ecommerce Stores
1) Leverage the Power of Influencers
Whether you accept it or not, this is the age of Influencer Marketing. People trust influencers more than celebrities and brands. Yes, you read it right.
Two studies — one by Matter and another by Twitter and Annalect — shed some light on how social media users view Influencers.
The study by Matter Communications claims that social media users engage more with influencers as they find their content "appropriate and helpful."
The study also sees that the "trust" in influencers translates into business, aka sales.
The results of the study by Twitter in association with Annalect are even more interesting. The study says users trust influencers as much as they trust their friends.
2) Promote Through User-generated Content
People hate being advertised to.
Here is another truth bomb for you: Nearly 47% of internet users globally use ad blockers. And 48% of ad block users feel that there are too many ads.
The takeaway here is that most people just hate ads. The more ads become personalized and intrusive, the more they get terrified.
A study among 731 ad block users by Hubspot reveals that 39% are concerned about their security and 32% are worried about their privacy being invaded.
3) Get Verified
Trust us. The little coveted blue checkmark next to your social media username will help you get more sales.
"The first benefit you get from verifying your business is trust from your customers. The blue badge beside your brand name helps you stand out from the crowd", says Cristian Ward, CEO of Sandiegoseo.company. The verification icon will get you more followers and increase awareness about your brand among them. You can also stop someone from impersonating your brand by earning the verification badge.
Platforms like Pinterest mandates businesses to claim their website before applying for the 'Verified Merchant' program.
Having a verified badge also means getting early access to upcoming features.
See how Ruggable has got their Pinterest account verified.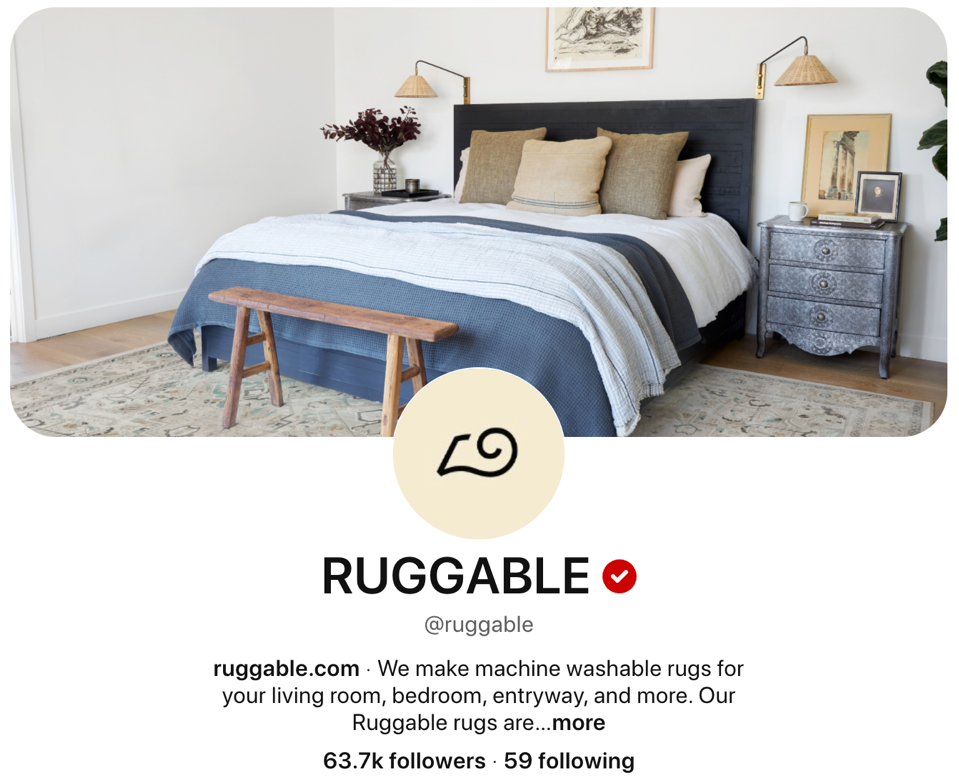 4) Tap into Underused Platforms
Businesses underutilize specific platforms. For this section, we take Pinterest and TikTok as examples.
Many brands still consider Pinterest as another social media platform. However, the reality is that it is the biggest search engine after Google and YouTube. Leveraging the power of Pinterest will get you a steady influx of traffic.
The case of TikTok is quite different. The platform's primary users are Gen Zs, which account for 60% of its user base.
But the app is maturing. More and more older users are entering the platform. Though brands like Sony and Apple started monetizing the app's virality, many are yet to board the platform.
5) Embrace New Features in Early
The dynamics of social media are constantly changing. Updates and new features are being introduced almost every single day.
And those who hop on the new features get the most out of them. This phenomenon occurs because platforms usually push new features for visibility and discoverability.
Take the case of Instagram Reels and Pinterest Idea Pins. Instagram replaced the Explore button with Reels to give more visibility to the TikTok rival.
Pinterest was quick enough to follow the trend and rebranded its story pins as Idea pins. It displays Idea pins on top of each user's feed as 'Profile Bubbles.'
The takeaway is that early adopters of new features harvest more brand awareness, followers, sales, etc.
6) Go for In-app Checkouts
Let's begin this tip with a piece of data. The global e-commerce conversion rate was 3.23% in Q4 of 2018.
In 2019 Q1, the rate was 2.72%; in Q4, it further fell to 2.64%. The conversion rate in 2020 Q3 was just 2.17%.
One of the key reasons for low conversion is the cumbersome checkout process. A study by Baymard Institute revealed that 26% of shoppers abandon their carts due to poor or lengthy checkout processes.
The study also found that, on average, non-account customers have to fill out at least 14 form fields before completing a purchase.
In-app checkouts simplify the checkout process. Instagram was one of the early adopters of in-app checkout, and they do this using shoppable posts.
Customers can select products, enter payment and shipping information and complete the purchase, all within Instagram. Next on the list is TikTok, and the app recently partnered with Shopify for in-app shopping.
7) Don't be Afraid to Shell Out Some Money
Whether you want more brand awareness, website visits, or conversions, paid advertising can get you what you want.
At times, your organic social media marketing efforts may go south. In such a situation, do not be afraid to spend some money.
Paid advertising can always bring you a certain level of online success. Why? Because it's PAID!
For paid advertising, choose your platform wisely. If you are on a shoestring budget, you can skip to Facebook advertising and opt for TikTok or Pinterest advertising.
If you are in the B2B domain, try LinkedIn advertising. You can start adverting your brand/product on most platforms for as low as $5 a day.
2 Recent Best Ecommerce Social Media Marketing Campaigns
1) Target & Ulta Beauty
Many in the retail world know about the recent partnership between Ulta Beauty and Target. The cosmetics industry giant launched its storefront in more than 100 Target stores and planned to open 700 more stores. To spread the word, recently, Target took the news to TikTok & Twitter and made it go viral.
Target created a hashtag #UltaBeautyatTarget and promoted it using brands such as Florence by Mills, Too Faced Cosmetics, The Ouai, and Tula. The campaign earned a total of 1.5 billion views and hundreds of videos while writing the article.
2) Chewy
Chewy, a pet supply online store, recently leveraged the power of all major social media platforms. For this example, we will see how the company used Instagram to promote the brand. First, it invited its followers to share their stories on the relationship between humans and pets via #PetsBringUsTogether.
The idea was to bring out stories demonstrating how pets impact human lives. Soon, the hashtag generated more than 42,000 posts with tens of thousands of comments, likes, and shares.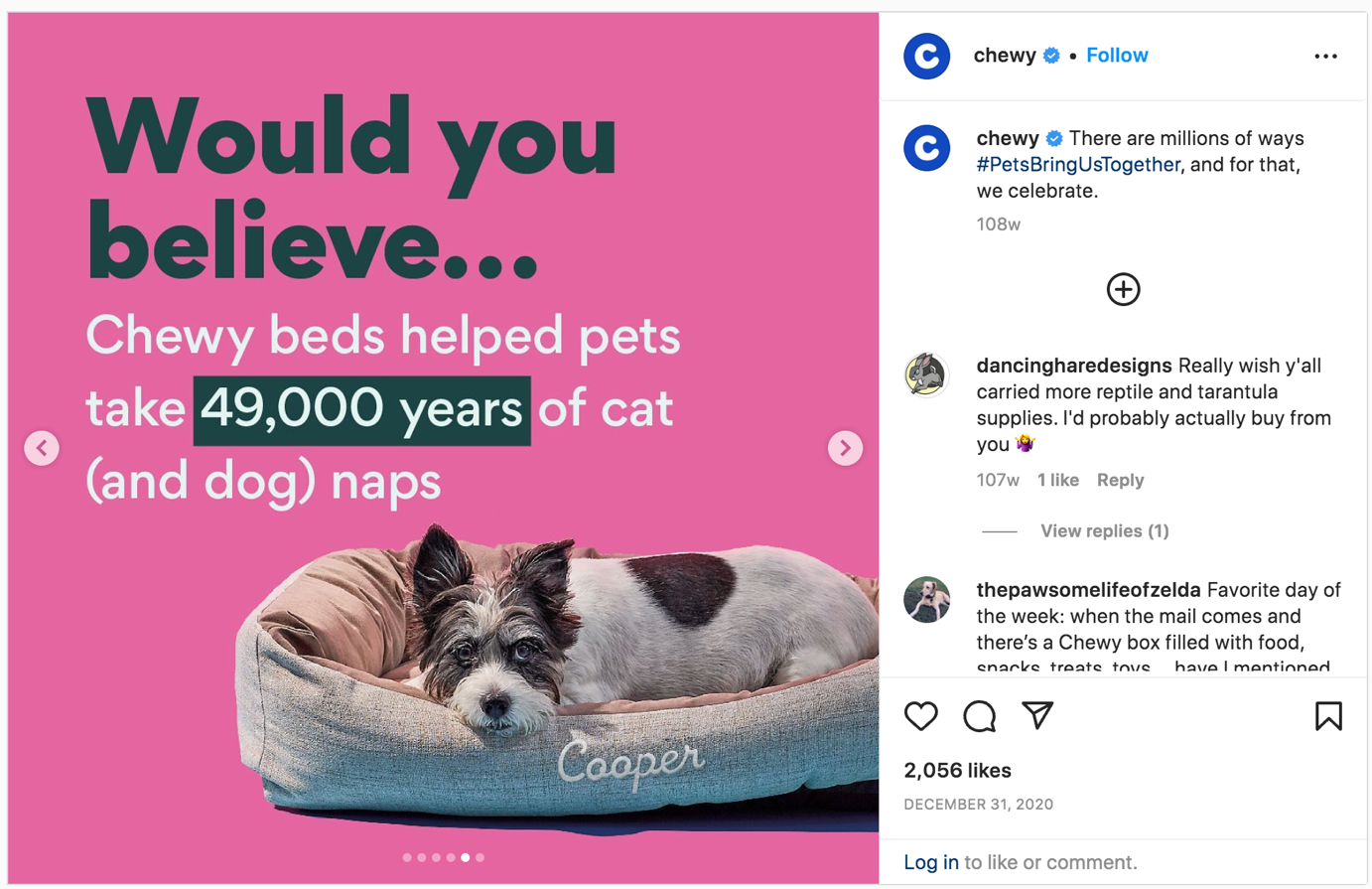 The smart thing Chewy did was not make the company a part of the hashtag.
The #PetsBringUsTogether was generic and did not scream that it was a frontline weapon for marketing Chewy's products. Hence, pet lovers startedparticipating in the campaign without even realizing it was a Campaign. As a result, Chewy gained a massive upshift in brand awareness.
5 Social Media Marketing & Ecommerce FAQs
1) How do I Make my Target Audience Engage?
There are several ways to make your audience take part in conversations. To start with, ask relevant questions in posts.
Say that you are selling a limited-edition diamond-studded men's watch. You can ignite a conversation among the audience by asking them to count and tell the number of diamonds on the watch.
You can also hold monthly or weekly live Q&A sessions. Almost all social media platforms allow users to do Live broadcasts.
Another way to increase engagement is by conducting polls. Show off two of your products and ask your followers to rate the best. You will be amazed at the increased engagement as people love registering their opinions.
2) How do I Make Shopping Easier for my Customers?
Integrate your e-commerce store with social media platforms such as Facebook, Instagram, Pinterest, and TikTok. Most of the platforms charge nothing for opening your storefront on their channels.
For instance, using Facebook Shops, brands can create online stores on Facebook and Instagram for free. They can customize the fonts and colors.
Take a look at this Facebook shop.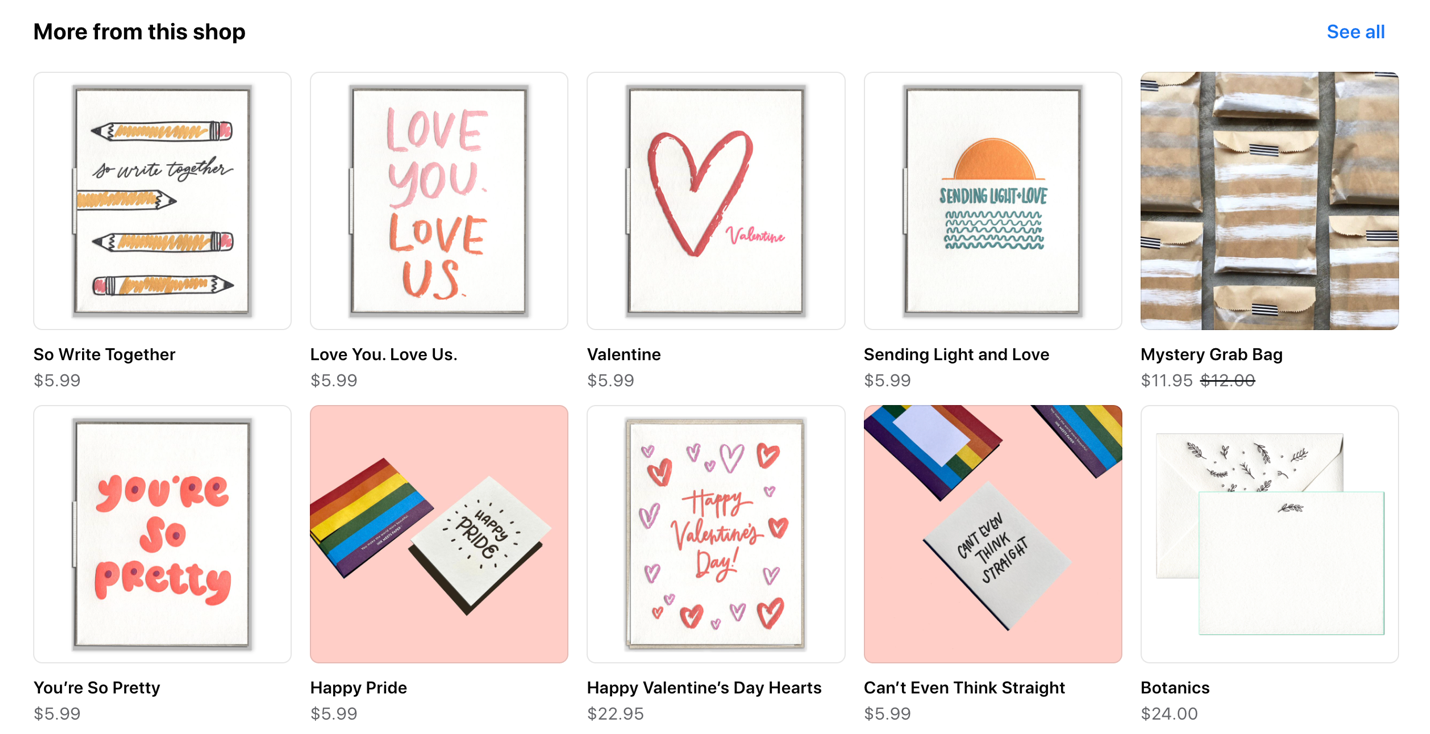 You can leverage WhatsApp, Instagram Direct, and Messenger within the Facebook Shops to get in touch with your customers.
3) How to Find Influencers for my Ecommerce Business?
Scores of free tools are available to find influencers for your social media marketing. Tools such as Followerwonk and Hootsuite will do the job fine if you are a beginner.
But if you want to dig deep and pick the 'right' influencers, consider subscribing to a paid version.
These tools filter influencers by country, follower count, engagement rate, industry, etc. Go for those with a high engagement rate and a loyal following.
4) How to use Social Media Marketing to Promote my Small Business?
Major social media platforms offer Ad credit to small businesses.
For instance, TikTok pledged to donate up to $100 million ad credits to small and medium-sized businesses. You can apply for a one-time $300 Ad credit if eligible.
Likewise, Pinterest occasionally runs marketing offers and gives Ad credit to advertisers.
To gain more attention, you can run contests and provide freebies to the most active followers. You can also offer platform-specific coupon codes to attract new customers.
5) How doI Drive Quality Traffic to my Store via Social Media Marketing?
Social media advertising is the best way to drive targeted traffic to your store. The tools social media platforms rely on to track user behavior are highly intelligent and evolving.
These bots know exactly who the buyers are and the tire kickers. Hence, they display your products only before those who have Buyer Intent.
You need to run ads for a few days to make the most out of a tool like Facebook Pixel. The more and more data you feed to Pixel, the better it becomes in finding the right prospects.
6) How Do I Personalize the Checkout Process?
Add a Dynamic Checkout button to your online store. The button can accelerate the checkout process by skipping the cart. The best part about making way for Dynamic Checkout is that the button changes depending on the customer's preferred payment method.
For example, a user has an android phone and an iPhone, and he uses PayPal on his Android phone and Apple Pay on his iPhone for making online payments.
Assume that he buys a product using both phones from a store that enabled the Dynamic Checkout option. While the Android one will show PayPal as the checkout option, the iPhone will show Apple Pay for the same action.