In a default Prestashop frontend as catalog, which contains products and product categories. You can customize and use your store in your way by adding products and categories. Prestashop seems to be creative, creating content and giving value to your online shop.
To add products does not only mean adding an image and some text, and then validating your content. It means knowing your product features price, weight, size, specifications, details, manufacturer, supplier and so much more. You should add the products and categories as per the requirements of customer.
Click on the Frontoffice i.e Catalog. This is where you manage all of your products throughout your PrestaShop site.
The first page under the "Catalog" tab lists both the homepage's sub-categories, and the products that are featured on the homepage.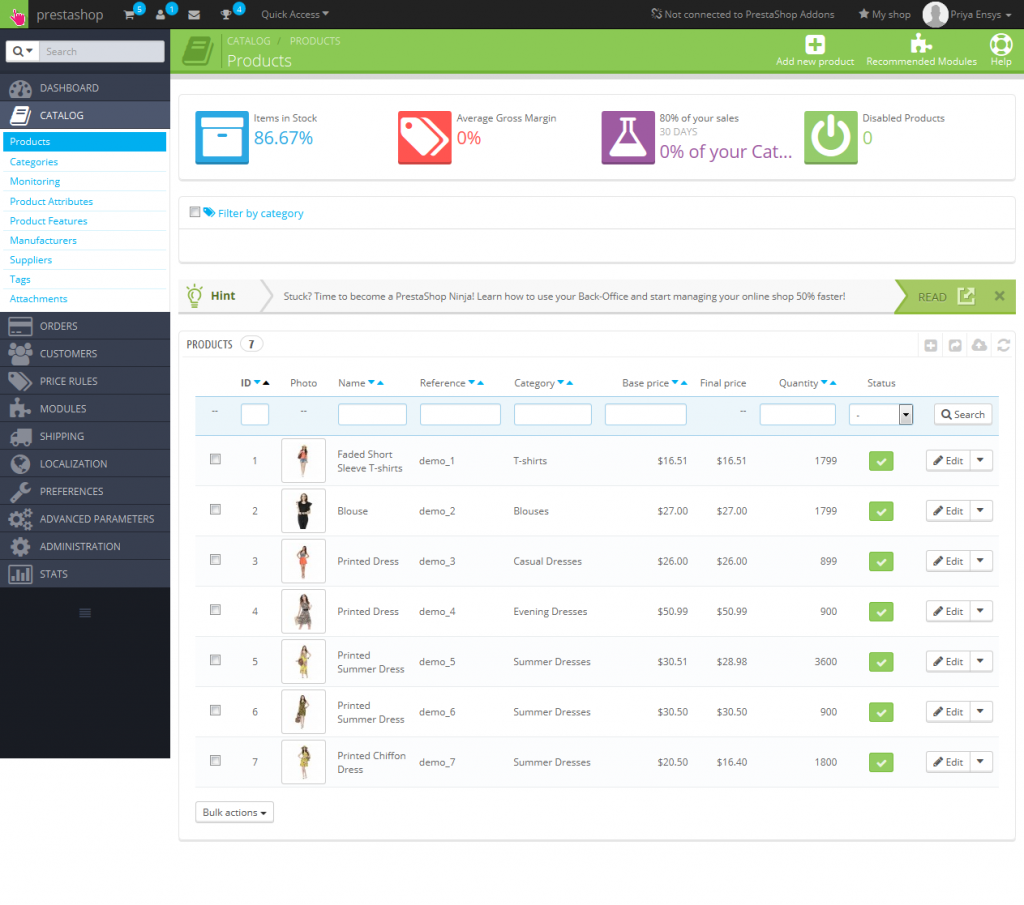 Step 1: Go to Catalog tab click on it.
Step 2: Under Catalog tab Click on Categories .A new side window displays.

Then click on "+" icon ADD NEW button that appears on right hand side.

Step 3: Enter the following details to create a new category:

Give your category a name.
Mention whether to display the category or not. Enter the status of category yes or no.
If you wish to create a subcategory belonging to a category other than the home page,
choose the category under which it will appear in the drop-down menu of your " Parent Category. "
Add description for your category.
Click on "Browse" to upload an image from your computer which will represent this category. For thumbnail images you can more files.You can also able to delete an unwanted image and add again the new one.

Meta Title: Meta title shows title as it will appear on the search engines when a request is made by a customer.
Meta Description: A presentation of your site in just a few lines. This will appear in search results accessed by a customer
Meta Keywords: Keywords that you must define in order to have your site referenced by search engines. You can enter several of them, separated by commas, as well as expressions, which must be indicated in quotation marks.

Groups access. Restricts select categories and products from different store users. To see these categories, your users must belong to the proper user group. Check out the group functions in the Customers tab for more information.
After you finished configuring your categories, you can save them either by staying on the same page by clicking on the button" Save, "or saving and coming back to the previous category by clicking on "Save and Back to Parent Category."
Note: Each of the fields has a flag located to its right, indicating that it can be configured in several languages. For more information on this feature, please see the language management feature, in the "Tools" tab.