Jan 13, 2021
| 09 min read
2. Magento Open Source
Magento Open Source Edition (Magento Community) is the free version edition launched back in 2008. The Open Source Edition is aimed to meet the basic needs of online retailers and includes the same key features as its Commerce counterpart.
With Magento Open Source, you can smoothly make configuration modifications to the platform, which addresses your business needs. This edition provides a great set of tools to build a fully functional store quickly and without hassle. There is also an extension marketplace to add new functionality to optimize the user experience.
Examples of e-commerce websites built on Magento Open Source:
PrettyLittleThing
Brand Alley
The V&A
Christian Louboutin
3. Magento Commerce
Magento Commerce Edition (Magento Enterprise) provides store owners with advanced features, unlimited access to customizations, and third-party integrations and is targeted to enterprise-level businesses.
Magento has significantly improved Commerce functionality over the past few years. B2B module, page builder, advanced marketing tools, customer loyalty tools, content staging, and visual merchandiser are the features that took the Commerce Edition to a whole new level.
Magento Commerce license cost starts at $24,000 annually. The pricing system is based on a tiered model, linked to GMV (gross merchandise value). The more you sell through the Magento platform, the more you pay for the license.
Examples of e-commerce websites built on Magento Commerce:
Paul Smith
Omega Watches
Cox & Cox
Ford
4. Magento Commerce Cloud
Magento Commerce Cloud Edition (Magento Enterprise Cloud) is a cloud-based e-commerce solution that supports all Magento Commerce features and is run on Amazon Web Services (AWS) with some added options.
Similar to Magento Commerce, the pricing for the Magento Commerce Cloud Edition is based on a tiered model and ranges from $40,000 and can rise up to $300,000.
Examples of e-commerce websites built on Magento Commerce Cloud:
Helly Hansen
BrewDog
Oliver Sweeney
Bulk Powders
5. Magento 2 Open Source vs Commerce
Before diving into the major differences between Magento Commerce vs Magento Open Source, let's check what these options have in common.
Both Magento 2 Open Source and Commerce have the following features:
Marketing, Promotions, and Conversion Tools
Site Management
Search Engine Optimization
Catalog Management
Product Browsing
Catalog Browsing
Integrated Checkout, Payment, and Shipping
Customer Accounts
Customer Service
International Support
Analytics and Reporting
Mobile Commerce
As for technology stack requirements, both Magento 2 editions support the latest versions of:
Web servers – Apache 2.2 / 2.4 and Nginx 1.7 or greater
PHP 5.6.x / 7.0.2 / 7.0.6
Varnish 3.x / 4.x
MySQL 5.6 or greater
Unique Magento Commerce Features
There are a few crucial features that are provided by Magento Commerce Edition and don't require the implementation of third-party extensions or the development of custom extensions.
B2B Module
Magento Commerce for B2B (business to business) was built to address the needs of store owners with difficult organizational hierarchies and a large number of users with different levels of permission.
The B2B module includes a number of features such as:
Quoting
Company Accounts
Quick Checkout Options
Credit Lines
Customer-specific Payment Options
One to One Pricing / Shared Catalog
Requisition Lists
Quick Order
Customer-specific pricing and catalogs
User roles, purchasing limits, and permissions
Customer-specific purchasing limits and thresholds
B2B module has been one of the major functional enhancements for Magento over the years.
Here are some of the top B2B ecommerce brands using Magento:
Ford Motor Co
Procter & Gamble Co.
3M Co.
Cisco Systems Inc.
Nike Inc.
Elastic Search
Elasticsearch enables your Magento 2 store to manage search requests smoothly through large catalogs. Elasticsearch conducts fast and advanced searches on products in multiple languages.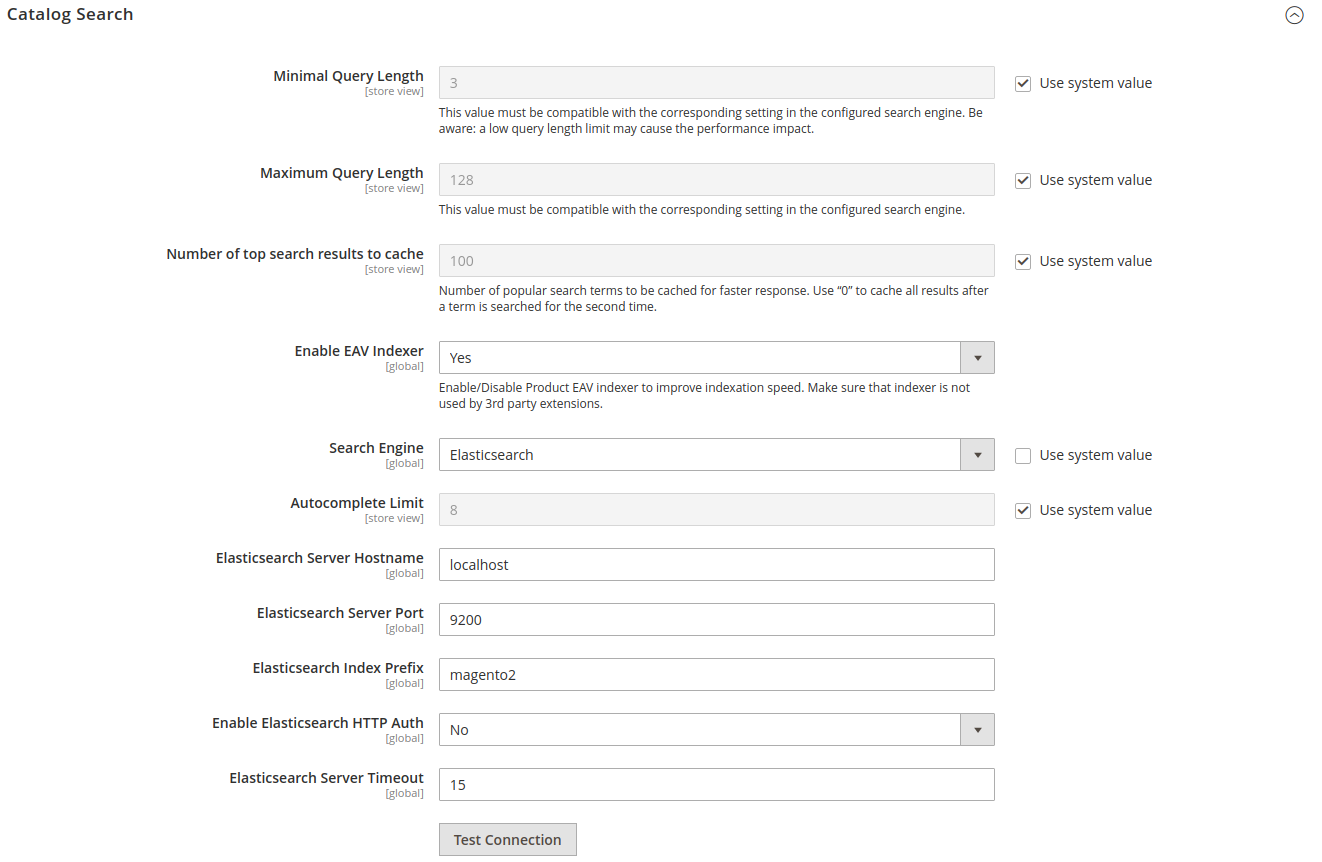 Elasticsearch supports real-time data, operates effectively out of the box, and can be scaled with ease. It also provides your customers with suggestions, corrections to typos, and supports stop words and synonyms. With Elasticsearch, you can make it easier for customers to find what they are searching for in a fast and efficient way.
Page Builder
Page Builder is another key feature that's only accessible as part of Commerce Edition. With Page Builder, you can handle content and pages far more effectively without restrictions or developer support.
The Page Builder includes a number of features helping to create content-rich pages that engage buyers, make the storytelling more visually attractive, and save time and resources such as:
Drag and drop page design
Improved content tools
Flexible layouts for pages, products, and catalog
Real-time editing from stage
Great variety of content types
Custom product attribute input types
Advanced Marketing Tools
For merchants who want to offer visually appealing content, there is a great variety of tools to create a customized shopping experience. Magento Commerce provides marketing tools such as:
Customer segmentation
Abandoned cart emails
Gift registry
Private sales and events
Rewards points
Returns and exchanges
Customer segmentation is one of the top marketing tools that enable you to effectively display content and promotions to particular buyers, based on customer location, search history, shopping cart contents, and more. With customer segmentation, you can produce reports and export the list of targeted customers.
Abandoned cart emails notify customers about the products or services they added to their shopping cart but didn't make a purchase. With the Magento 2 Abandoned Cart Emails, you can recover lost sales and generate coupons to encourage customers to take action.
Magento Commerce also allows your customers to create gift registries for special events and to invite their friends and family members to buy their gift cards. Magento monitors all purchased products and the number of items left.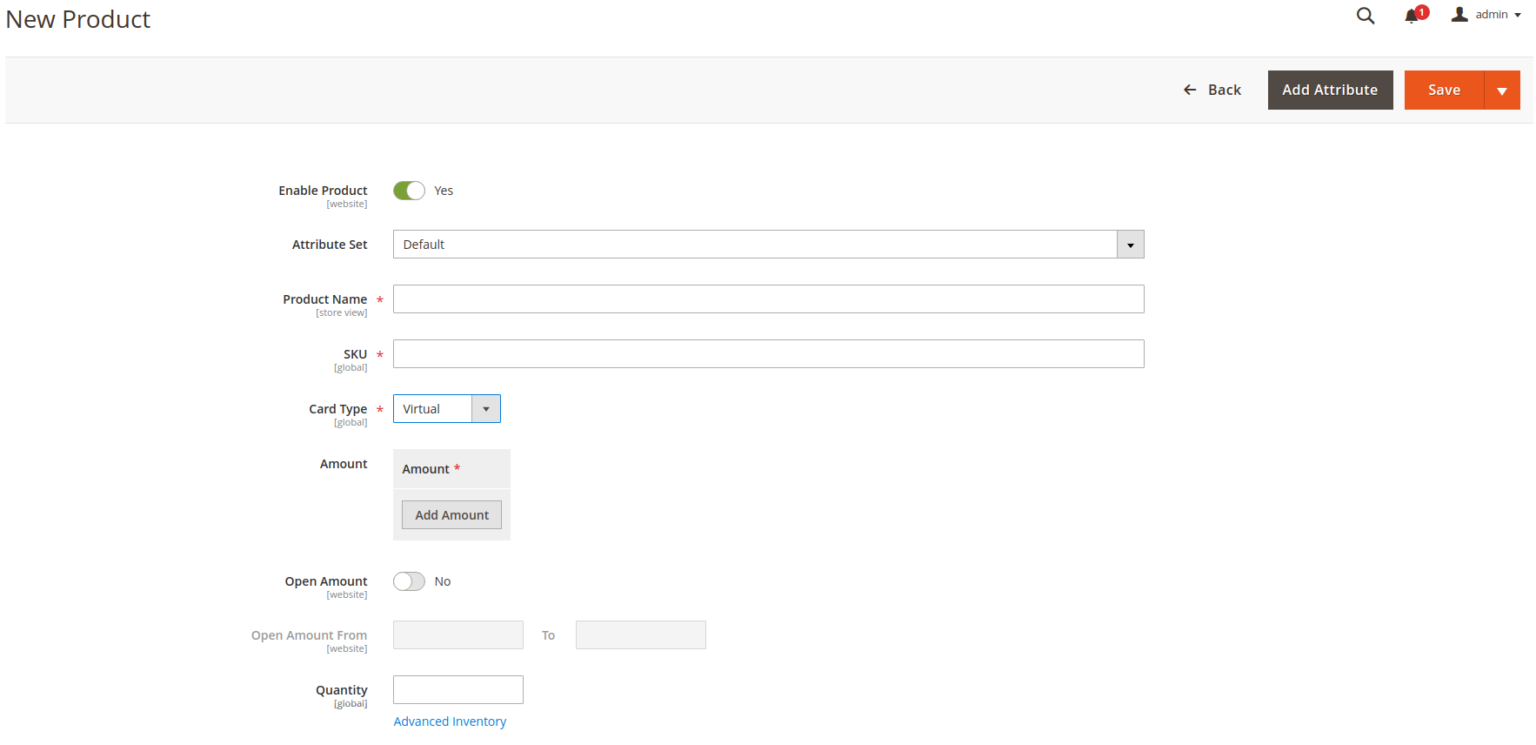 Private sales and events give you the possibility to increase your existing customer base and generate new leads. You can organize time-limited sales, determine invitations and event details, set limit sales to particular members, or build a separate private sale page.
A reward points system gives merchants the possibility to build your own customer rewards program. Customers earn reward points on any purchase they make on your e-commerce store. Later on, rewards can be transformed into coupons, discounts, or special offers for the next purchase.
RMA (returned merchandise authorization) can be given to customers who ask to return a product to get money back or change the item. If the request is approved, a unique RMA number is given to determine the returned item.
Content Staging
Content staging is another beneficial feature only available in Magento Commerce Edition. With Commerce Edition, you can edit the store on the move. For instance, if you need to change a CMS Page or segment on Black Friday, you have to make alterations precisely then. With Magento Commerce, things are different as you have the possibility to schedule the modifications to CMS Pages or Blocks to go live.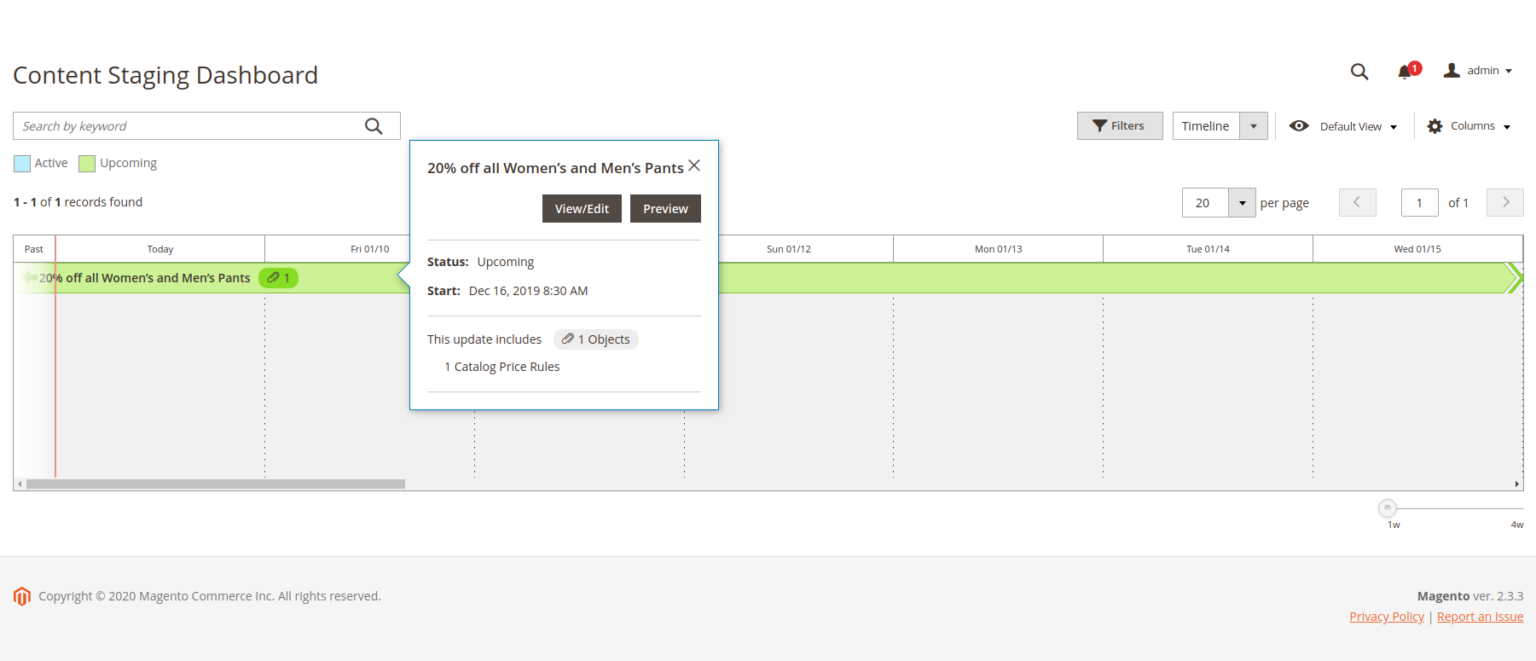 Content Staging allows merchants to create, schedule, and preview a broad number of content updates from the Admin of your online store before publishing. For instance, with content staging, a page is treated as a collection of various elements that can be turned "on" or "off" automatically all year long on schedule.
Visual Merchandiser
A Visual Merchandiser is a great tool for organizing your products in a visual format, in contrast to just seeing the listed SKUs (Stock Keeping Units). Visual Merchandiser supports a simple drag and drop interface and helps you arrange your category pages by parameters such as best-selling items, colors, size, discounted products, and more.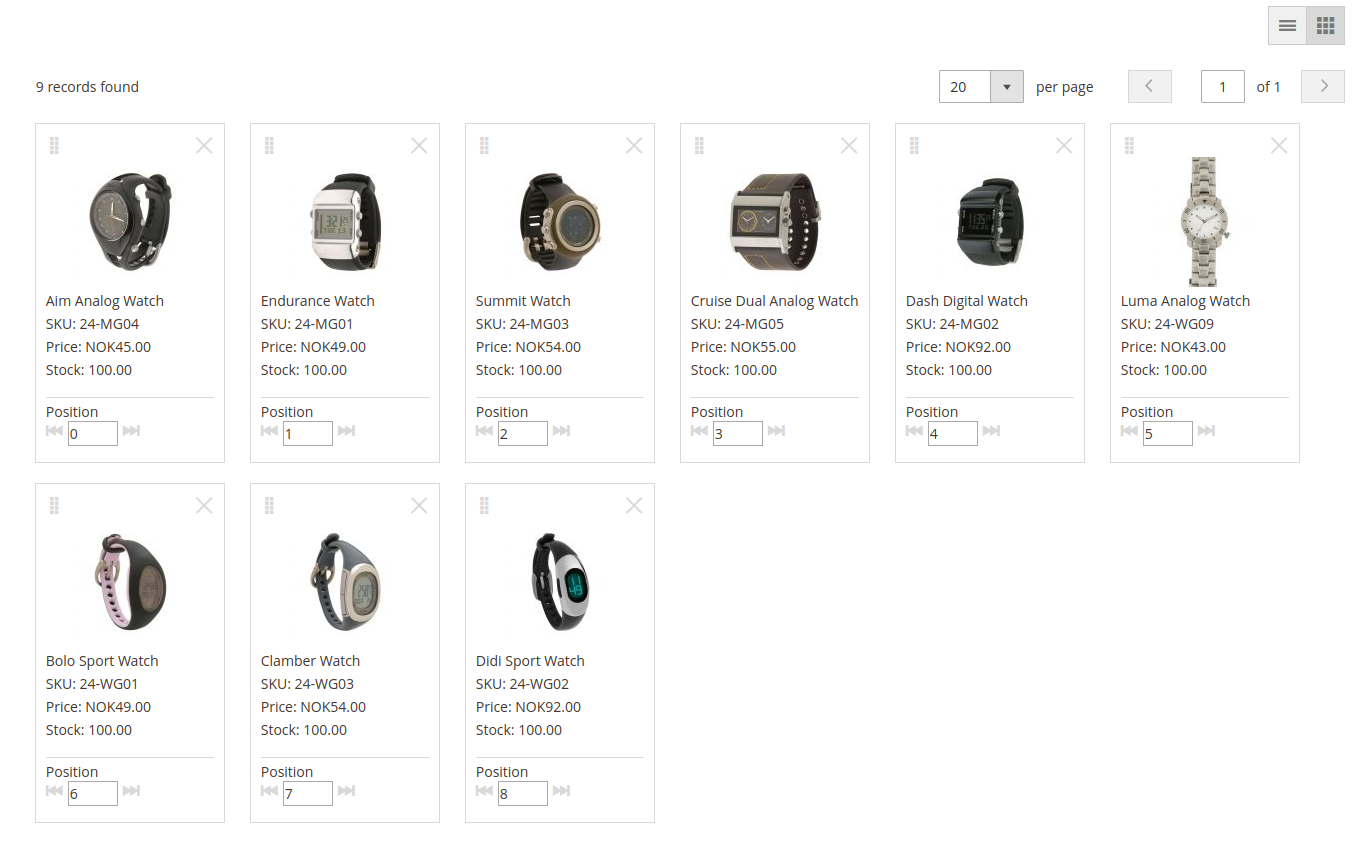 In Open Source Edition, go in a category section and set priority numbers to organize the product display order. While in Commerce Edition, you have an attractive layout that shows products and you can place them in various sorting orders. This makes it much easier for the site admins to make day-to-day changes to the category page.
What else does the Commerce Edition give you?
Look at some other benefits of Magento Commerce Edition.
Advanced Security
Commerce Edition provides more advanced security solutions. Magento Commerce Edition is "PCI compliant" and linked to the Magento Secure Payment Bridge, which is in charge of managing card processing.
PCI (Payment Card Industry) is a set of security standards built to protect card data, manage payment data, and approve payment operations. This edition also supports a PA-DSS (Payment Application Data Security Stand) payment bridge that provides robust security while making financial transactions.
Magento Community Edition doesn't have highly secure payment bridges, and it's "not PCI compliant."
24/7 Support
With Magento Commerce, you get 24/7 customer support to help you resolve all arising questions and technical issues. You will also have access to a dedicated account manager who will redirect you to valuable resources to make full use of your Magento 2 system.
Diagnostic Tools
With Magento Commerce, you also get access to various diagnostic tools for a thorough analysis, implemented extensions, and other online store aspects. These tools are quite helpful when creating a new store that needs to manage large datasets.
Magento Commerce Cloud vs Magento Commerce
For e-commerce owners who decide to set up a store with Magento Commerce, the next thing to take into consideration is whether to run a store on-premise or go with Magento Commerce Cloud.
Magento Commerce Cloud Edition is highly scalable, customizable, and can be smoothly integrated with third-party systems. Cloud Edition offers a solution that provides all the advantages of Commerce Edition, with none of the troubles related to self-hosting. AWS hosting offers high scalability and enhanced security for online sales and retailing, thus the PCI compliance and maintenance are managed by the platform.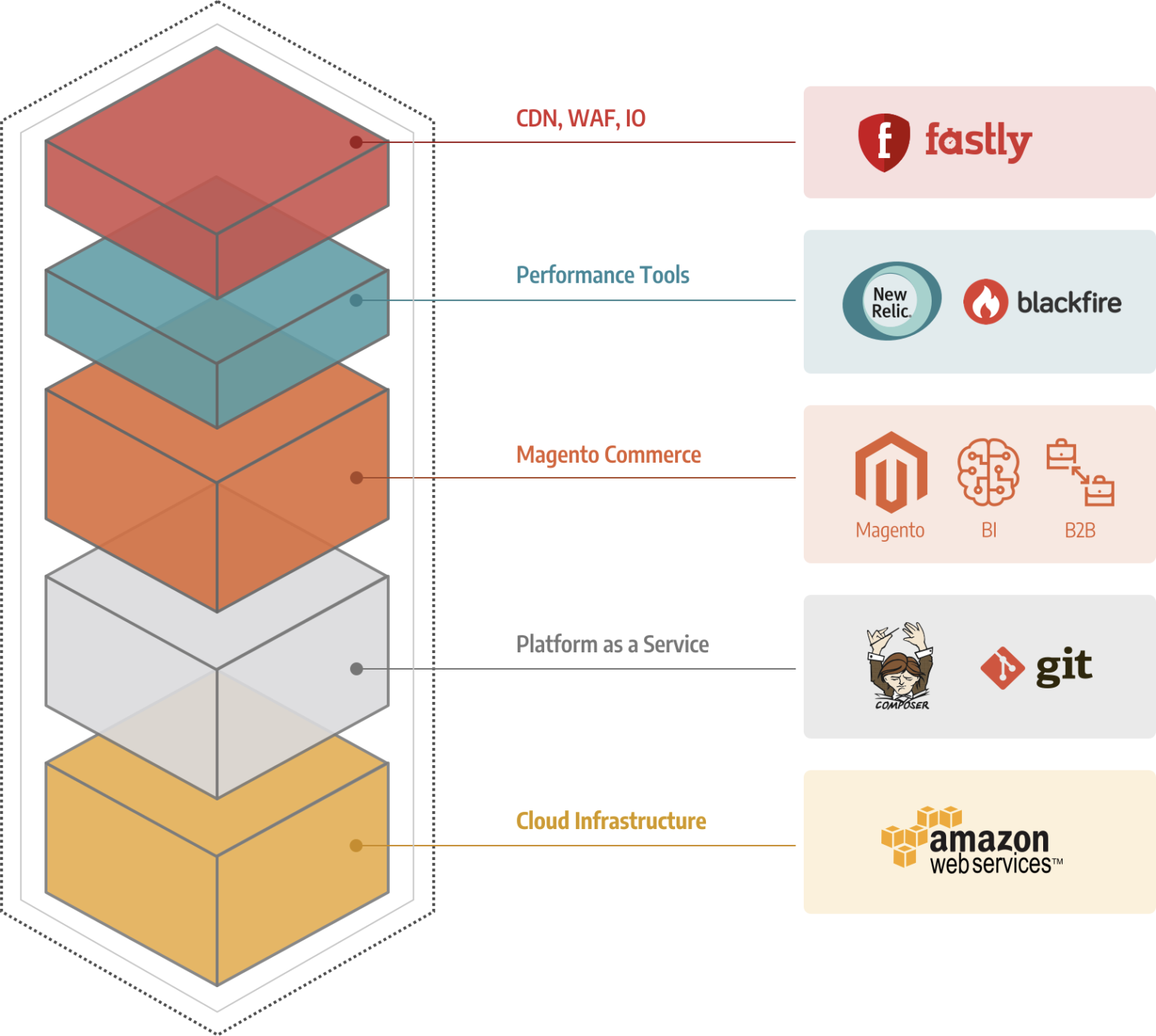 Additional benefits that are supported by Magento 2 Commerce Cloud are:
Fastly Web Application Firewall (WAF);
Fastly's image optimization and CDN;
Blackfire Profiler and New Relic APM for performance testing;
Bitbucket and GitHub (if you need a Git repo);
Automatic Backup of Code and Database.
Magento 2 Open Source vs Commerce vs Commerce Cloud
The table below shows an Open Source vs Commerce vs Commerce Cloud features comparison.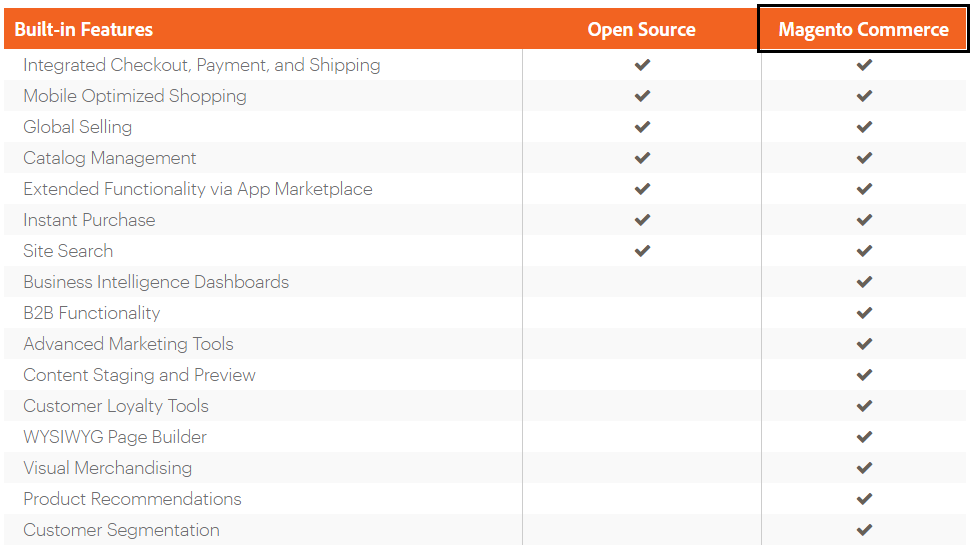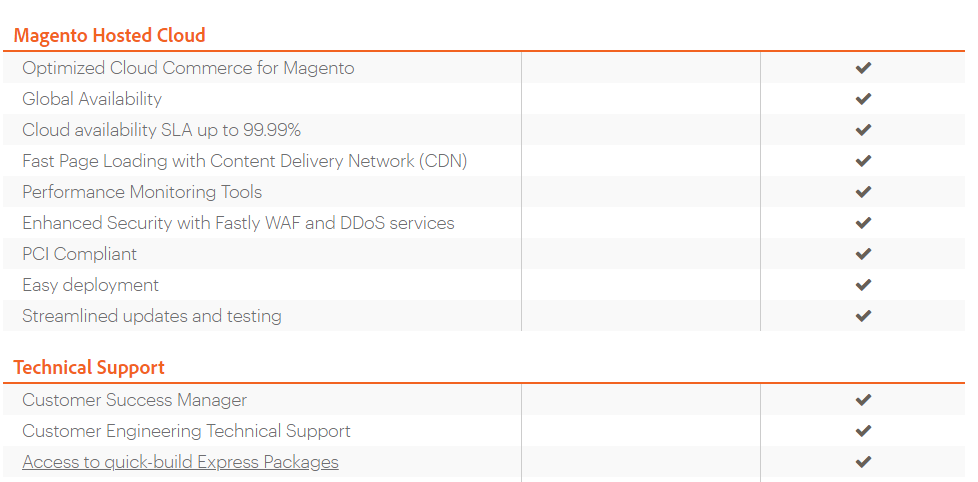 Which Magento edition should you choose for your e-commerce business?
After analyzing these editions, we can conclude that the choice of the edition depends on how you are going to exploit the platform. There is no one-fits-all solution. It's not a competition between "Magento Commerce vs Magento Open Source," and you should make a final decision based on your business requirements, strategies, and resources.
Magento 2 Open Source suits best for small e-commerce stores as this solution provides tools that can help merchants to build an online store in a fast way with no hassle and minimum expenses.
We recommend Magento 2 Commerce Edition to B2B companies, enterprises, and companies with high volumes of website traffic, a variety of product catalogs, wide global reach, business complexity, or plans to expand in the future.
Magento 2 Commerce Cloud Edition is more suitable for enterprises that are looking for a robust solution with advanced functionality, easy customization, and 24/7 support, and that don't want to worry about hosting. The Commerce Cloud covers all of the technical demands and provides a smooth admin experience.
If you are still of two minds about the Magento Cloud upgrade or Magento Enterprise upgrade, we suggest contacting Magento themselves or with any Magento Certified Partner agency to discuss the matter in detail. Experienced Magento e-commerce specialists with solid expertise will advise you on what the best edition for your e-commerce business is.
Interested in developing an e-commerce website on Magento 2? Contact us today and our team of certified Magento 2 developers will help you build a project according to your business vision.