Jan 05, 2021
| 15 min read
Reasons To Choose Magento For Your eCommerce Business
1. QuickRead
Magento has shown significant improvement over the past few years. Ecommerce owners can now use the platform with ease and convenience in operations. Top brands like Nike, FoxConnect, Samsung, Lenovo and Nestle have been using Magento since it was introduced. According to the statistics, Magento is used by 26% of the Ecommerce stores, thanks to its expandable features.
There are numerous reasons behind why a business should use Magento. Whether it's about creating a new store or moving to a new version, Magento always tops the list with its comprehensive framework that has proved to be perfect for different business requirements. So, let's now have a look at some of its features and learn why Magento is a better option for E-commerce websites.
Why Ecommerce for Magento Websites?
Have you considered making the switch to E-Commerce with your company? How much do you know about it to choose one eCommerce platform over another? Perhaps you're contemplating a different platform because you were dissatisfied with the previous one's minimal functionality.
It is true that with rapid e- Commerce's growth, and success, and wide range of platforms, deciding on the right platform is difficult. When browsing, keep in mind that you can look for features that are applicable to your specific type of enterprise, not just generalized features.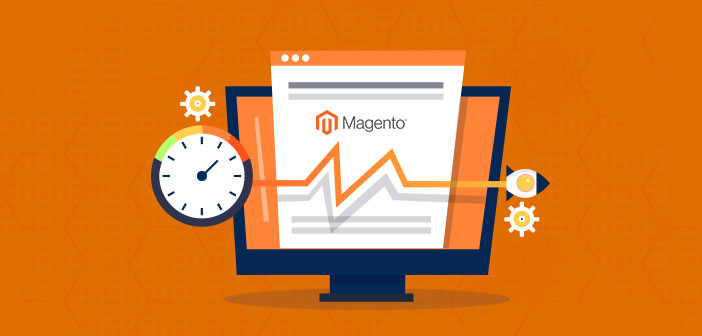 Indeed, Magento powers a quarter of all e-commerce sites worldwide, which is unsurprising given that it is the most scalable and feature-rich e-commerce software platform available, and it works with just about every kind of enterprise.
If you're still not sure, here's a rundown of reasons why Magento should be your e-commerce site of choice
2. Open Source
The fact that Magento is open source is one of the reasons why it is the most popular eCommerce platform among developers. It means that someone who is familiar with Magento website development will take advantage of it. Magento is a PHP-based platform with an open framework architecture that facilitates e-commerce growth. This ensures that by adding and/or making add-ons and plug-ins, developers can change the source code and add features and functionality.
Magento Community Edition (CE) is a fully free version of Magento. Any version of Magento CE can be conveniently installed and used. If you are a Magento specialist, you can build or add Magento modules to improve the success of your Magento online store and to promote your ecommerce website with new functionality and functionalities.
The Magento Connect/Marketplace has a large library of plugins. These modules can help you improve your game as a Magento website developer while also tracking your success. Magento website creation ensures that the business's success is visible at all times. Magento website production capabilities come at no expense, which has resulted in a substantial increase in the platform's use in recent years.
The platform is rather adaptable, allowing developers to update or tweak the codes to meet the needs of the enterprise. The free version is mostly used by developers to create E-commerce websites. Magento developers create websites that are ideal for business development because of its engaging functionality. The website owners have access to the new edition as well, and they do not have to pay extra for it.
3. Scalable
You can scale Magento into whatever you need it to be. Whether you're a small or large online business, Magento adapts to your requirements because it is so flexible. Magento offers its users a choice and an opportunity to develop. For the companies who have just started their way in the E-Commerce business and choose Magento, it offers a free edition.Once they grow, develop and stand firmly on their feet they can choose the Enterprise Edition with some additional features to optimize the work of their store even more.Because of the high scalability of the platform, it can fulfill a wide range of business requirements and hardware can be easily expanded with the company's growth. The scalability it offers, makes it the finest option amongst the available ecommerce solution platforms.Magento will never fail to amaze you with the performance and level of reliability it offers.More than 9,000 websites across the internet use the Magento because of its flexibility and highly scalable solutions. The E-Commerce websites designed on Magento platform adapt seamlessly to any new extensions or customized features. Moreover, the Fortune 500 companies like Harper's Bazaar, Olympus, Fiji Water and Nike have chosen Magento as their CMS platform.
4. Multiple store feature
Usually, eCommerce websites have only one website on a single set up but in Magento, that's not a case to highlight. With Magento, you can seamlessly manage multiple stores through a single back-end. Everything, from inventory management to order and return management can be managed using a single admin panel. Managing billings, customer records, and orders from multiple online stores run smoothly. So, you don't need to worry about missing any important information or building and maintaining multiple codebases for multiple websites. Just manage all your online stores from an admin dashboard.
With multiple storefronts,developers can add various shopping stores to the platform, consisting of thousands of catalogs and products to ensure an exciting shopping experience.
You can also assign a subdomain for individual stores and each store can have different themes and templates associated with them. Everything with easier controlling for all the stores through one admin panel. Users using Magneto have the capabilities to create specific as well as an independent website for different categories of products. Also, it allows users to give multiple looks and designs for every website to attract customers.
5. SEO Friendly
SEO is not dead. This statement holds true for Magento CMS as well. Magento is an SEO-friendly platform. It comes packed with features including, SEO friendly URL structure, sitemaps, positioning layer, URL rewrites, tags, descriptions, etc. that help your ecommerce website rank higher in search engines and help your buyers find you online with complete ease. Not only does Magento help to drive inbound traffic, it also has powerful tools to boost conversion optimization and average order value, such as Up-sells and Cross-sells.
A lot of E-commerce specialists believe that SEO is the key to high Google positions. We couldn't but agree with that since your Google position immensely influences customers finding your website.
Magento is a totally SEO-friendly platform using best practices:
OG Tags
, Meta information, Advanced Permalinks,
XML sitemaps
, etc.
The SEO features of Magento e-Commerce development ensures that you have enough options for URLs, sitemaps, meta tags, descriptions, keywords etc. This platform also contains Google and HTML sitemaps that makes it easier for the bots from Google to crawl the web pages and highlight them on the top of the Search engine. Gaining traffic through search engines is one of the most effective ways to gain a return on your investment. We advise you to use these SEO features to your advantage to the fullest. Magento is even a step ahead of competitors: it also supports HTML5 mobile capabilities that can boost SEO of your website.
6. Mobile Commerce
We are living in the mobile world, where there are constantly released newer, smarter phones. Correspondingly, people are using them more often to find information. Within the next few years, mobile is expected to account for the majority of purchases online. In order to make your online business successful, you must concentrate your efforts in catering your mobile-savvy buyers. The Magento platform supports HTML5 to maximize the shopping experience on mobile. Moreover, it has the ability to adjust the image size and supports video.
Magento allows ecommerce websites to efficiently work with multiple devices, irrespective of their screen size and other features. Customers can easily access these websites through their mobile devices, whether it's a smartphone, an iPad, iPhone, tablet or laptop. The cross-browser services of Magento e-Commerce development enable high accessibility on different browsers, thus preventing any limitation on its usage.
In the world where online shopping is majorly done on mobile, you might not want to miss out on delivering uniform experience on all the devices.
79% of smartphone users have made a purchase online using their mobile device in the last 6 months –
A report says
Magento also offers certain features like Griding, image scaling, AV capabilities, gesture control, drag and drop, etc. So, if you are not currently mobile-ready and are thinking of switching to a new platform, both the Magento Community and Enterprise editions offer mobile shopping experiences across multiple web browsers and devices. Looking at this feature in the bigger picture, Magneto benefits the sales and business revenues.
In the final run, it also implies a highly customer-centric shopping experience with a built-in user-friendly flow.
7. Superior Support
For any business, the support operations are an integral part of its growth. Traditional or online, support plays a vital role in the growth and success of a business. Therefore, when it comes to Magento for ecommerce, the technical support team holds critical importance.
Magento as a platform just keeps getting valuable additions in terms of security, stability, and support all the year round. The active community and the developers help improve the platform for better user experience, bringing the best ecommerce standards for Magento. This trickles down into the platform that makes it easier, faster and seamless as an ecommerce platform with which you are always covered.
Due to the growing popularity of Magento platform, there are a lot of Magento extensions provider companies, except for the Magento developers themselves. They work hard to provide you with the newest module releases and updates.
Magento is like an organism that constantly changes in order to develop. Correspondingly there are plenty of companies to opt for that will always provide you with the best support.
8. Third Party Integrations
Magento for ecommerce websites allows you to integrate quickly with a large number of third-party services including payment gateways, database applications, transportation, shipping, order tracking etc. Also, the Magento platform offers you with built-in Google tools such as Google Analytics, Google Checkout, and Google Base to help you monitor your website's performance while keeping a bird's eye view on the latest Magento ecommerce trends. Here are the places you can find the best plugins for your store together with the best
Magento 2
Extension providers offering different customization services:
Magento Marketplace
and
Github.
There are extensions and solutions available for integrating your site with Google Analytics, Google Shopping, Ebay and PayPal. The platform can also integrate with CMS platforms like WordPress.
With these modules, website owners can easily customize the platform and give a better shopping experience so that customers can keep on visiting the same store. This offers more opportunities for customization and developing the finest possible store.
The extensions come in the form of phone apps that are small code pieces that can easily be added to Magento. These codes empower it to something out of the box. Some of the popular Magento extensions are 'one page checkout', display options like a grid and list view with default functionality. Some of these extensions are for free and some payable. A retailer can always find something which fits in with his earmarked budget. Magento extensions are key to Magento benefits as it gives a lot of flexibility and choice to the developer and the retail brand. Again, confirming the reason as to why choose Magento for ecommerce. In order to make the most effective use of the retail website and develop it whichever way you want.
9. Community Support
One of the prime reasons why Magento for ecommerce enjoys a powerful position amongst its competitors is due to the selfless devotion of the Magento Community. This huge community comprises dedicated developers, programmers, bloggers, project managers, product managers, CEOs, etc. around the world, who help and work with the beloved Magento Community every day.
The Magento Community always ensures that everyone is on the same page. If you, as a developer, are facing any issue with your Magento ecommerce website, you can always count on the ever trusted community to help you out by providing proper guidelines and fixes for that particular issue. It is a safe platform, as well as speedy, thanks to the regular updates fulfilling the needs of end users. Here are forums you can get an answer to anything about Magento:
StackExchange
,
GitHub
,
Magento Forums
.
The Magento e-commerce platform is extremely popular and that's why it is widely supported. The Magento Solution Partner Ecosystem connects a network of 315,000 developers and more than 1,150 technology and solution partners worldwide. You can be sure that someone has already fixed your problem or built a necessary plug-in. Best of all, Magento is free and self-hosted, and so are its many extensions. This offers the in-tune users a cost-free experience and overcomes several roadblocks on their way to developing their first e-commerce site.
10. Flexibility
We all love authority. And Magento for ecommerce websites gives developers just that. You, as a developer, can enjoy complete control over all the functions of your ecommerce website.It is an incredibly flexible e-commerce platform due to its module-based structure. So, developers can adapt the website design according to the client's unique requirements by enabling or disabling different modules or components.
With a flexible framework, developers can easily inculcate new and latest methodologies to make the ecommerce website fast, efficient and performance-oriented. The framework encourages hassle-free customization of products, brands, shopping carts etc.
Magento is designed according to the standardized PHPframework i.e. Zend Framework that allows the platform to extend, thus making sure that it complements the requirements of every merchant. Magento also offers you the opportunity to customize the back-end of the Magento web store to meet the specific requirements. With Magento, you can also take control of interfaces and processing capabilities of the core solutions of ecommerce websites.
11. High Performance
With regards to the page load time, query processing time and other dynamic or static operations, once again Magento ecommerce is the winner. Thanks to open source design, unnecessary features can be deleted to increase overall site performance. It ensures optimum performance of your website while using minimal server resources. This gives a competitive edge over other e-commerce platforms like WordPress and Shopify. In fact, Magento 2 is 20% faster than its older versions.
According to the user requirements, only a few hundred milliseconds of latency processing can completely kill the chances of ecommerce websites with potential customers. Magento, coupled with modern technology such as Varnish, Memcached, Redis, FPC, and optimized database options, can fittingly cater to the requirements of ecommerce businesses and their clients.
12. Multitasking
We all love multitasking, so does Magento. The best thing about Magento for ecommerce is that it allows you to perform multiple tasks at the same time, which lets you work on other important tasks simultaneously while monitoring your Magento website's performance. It all comes down to the fact that Magento saves your precious time
Merchants and developers can also manage all of the items, billings, customer information with just a single and user-friendly admin panel that the CMS offers.
The discussed e-commerce platform allows you to perform multiple tasks simultaneously. Thus, online store owners and developers can manage, edit, and save different information on the e-commerce website at the same time. You can provide a multi-layer navigation to your customers to ensure an easy and effortless shopping experience. Searching for products in categories becomes possible with Magento.
13. Security
Unfortunately, even the digital world is not insured from the frauds and data theft. People want to be 100% sure none of their personal data or any other information would be lost or used in any kind. That is why it is important to pay attention to security.
As to the leading E-commerce platform, there is the security experts team in Magento that constantly updates and looks for new ways to improve security.
This is a secured platform that keeps customers and business data safe. Furthermore, Magento 2 is even more secure than the previous versions because of the changed structure of directories in the source. Implementing SSL security and a dedicated IP is easily done through Magento, ensuring your customers feel safe when buying online.
14. Multilingual and multi currency
Magento e-Commerce services support cross-border language and varied payment methods.
Operating globally means that the online store needs to provide content in different languages for different residents. There should be something for everyone so that customers do not leave the store without purchasing anything.With this feature, Magento has grabbed a significant market share in the ecommerce world.
Unlike many of its competitors, Magento 2 supports multiple currencies from around the world. The functionality allows your company to expand into international markets. Holding a major market share in ecommerce, as it is used by retailers across the world. It stands proven why use Magento for ecommerce.
15. Seamless checkout options
The Seamless Checkout option of Magento development services allows the customers to avail a single checkout option for all the products instead of opting for checkout options for each. Through Magento, merchants can easily configure their portals and optimize their shopping carts for increased conversions. With its one-step checkout, there would be a lesser number of customers who abandon their carts.
One-step checkout is an ultimate process to pay money while purchasing any product. In one step checkout process, all the transaction details and processes are completed within a single page. This way customers' crucial time is saved.
You can easily avail this process in your Magento eCommerce store through integrating One-step Checkout extension.
16. Payment Options
Obviously, not every customer uses the same payment option, so website owners are required to integrate multiple payment methods in order to facilitate customers with an easy shopping experience. To guarantee secure and simple payment operations, Magento offers a range of integrations like ebay, Authorize.com, PayPal, Braintree, and Amazon Payment. So, customers can benefit from a one-click pay option anywhere they are.
17. Return material authorization
Return Material Authorization (RMA) is a scenario in which profit margin isn't contributed directly, RMA is something which will be cut down from it if not delivered properly. In Magento, you can use RMA as an extension which is flexible enough to design a business model. Magento's return extension has various options to accommodate your customers in every RMA situation.
18. Themes for All Businesses
E-commerce business' owners can choose any appropriate theme according to their business industry. It doesn't matter what you are going to offer, Magento provides you a variety of themes that meet your business needs.
19. Smoothness
Magento works with JavaScript library as a default jQuery library that makes e-commerce development really easy. Due to the default JavaScript library, jQuery and Prototype problems during the development of new website's features and functionalities can be avoided.
20. Conclusion
To sum up, the Magento developed websites extensively uses the database for improving the performance of the
E-Commerce website
. Moreover, the easy installation of the extensions and other plugins in the free version has also made this platform as the first choice of the companies and online site owners.