2. Different editions of Magento
Magento Open Source edition (formerly Magento Community) is a free open source e-commerce platform. Anyone can get the program code for free, and it's available to third-party developers for editing. To gain access to advanced functionality, traders can expand the basic features of the Open Source Version with specially designed extensions.
Magento Commerce Edition (formerly Magento Enterprise) allows users to use a range of out-of-the-box features, incorporate third-party integrations, and scale to almost every level of implementation. To build an online store for Commerce Edition, you must first create an account in Magento and purchase a license.
You may also consider the cloud-hosted version of Magento—Magento Commerce Cloud. Magento Commerce Cloud Edition (formerly Magento Business Cloud) is a cloud-based e-commerce solution that supports all of Magento Commerce's functionality and is run on Amazon Web Services (AWS).
3. The Pros of Magento
Although Magento may have been facing tougher competition in recent times, its market share has come as a result of its immensely powerful native offering and unrivaled extensibility, and these reasons remain firm as simple advantages.
Feature – Rich
Few might claim that Magento has one of the largest and most robust native features of any eCommerce platform – sitting alongside the Salesforce Commerce Cloud, maybe (in terms of mainstream options). Following the comprehensive admin makeover of Magento 2, the platform is now also much easier to understand and run on a daily basis.
Whether it's multi-location inventory, multi-currency, multi-store functionality, or complex product catalog setup covering hundreds of thousands of items, all with complex attribute sets, pricing rules, and merchandising criteria, Magento has built-in functionality to manage. For those moving from Magento with items like multiple stores and complex product catalog specifications, it may be a shock to see far fewer core features on other platforms, such as Shopify Plus, which does not have multi-store functionality (for managing different data points at different levels) and does not have the definition of product attributes (for operating with a flat label structure) That said these milestones can still be accomplished, but they are not a native part of the platform, and there are always workarounds and compromises needed.
In addition to these features, Magento Commerce also provides as part of its native offering the following:
A market-leading B2B suite, providing quote management support, customer-specific catalogs, dynamic price list configuration, customer roles and responsibilities, and much more.
A broad variety of native product categories (offering much better handling of things like configurable products, product bundling, and grouped products than most other platforms).
New web-wide content management (Page Builder) offering – which offers flexible content management capabilities and is compatible with other main areas of the platform. This is not an enterprise CMS (which is something that more and more retailers are entering the eCommerce platform), but it is a step in the right direction.
Content Scheduling
Gift card and gift certificate functionality
A fairly feature-rich gift registry offering
Native multi-store setup allowing for global and local management of data and config aspects across multiple channels, brands, currencies, languages, etc
Strong SEO management capabilities (which wasn't always the case)
Comprehensive discounting and promotions capabilities
Complimentary access to Magento BI (BI platform capable of providing far more detail into performance, customers, product, etc)
Wide range of built-in merchandising features (such as visual merchandising, comprehensive product attribute management offering, ability to add-on custom options, badging, rule-based product recommendations, etc)
An Unmatched Ecosystem
Magento's greatest selling point is its ecosystem and the platform culture – which comes as a result of:
The amount of time Magento has been around
The fact that a free open-source version of the platform has always been available
The number of Magento developers in the world
Magento's strong investment in community building and collaborations
Magento's openness to (and understanding of the value around) working with third parties (e.g. solutions like hosting provides, ESPs, payments companies, search companies, personalization solutions, shipping partners, tax companies, etc)
Low entry barrier to start working with the available platform and content (in terms of blog content, online and offline training, documentation, etc)
From free or low-cost extensions (such as those available from companies such as Mirasvit, Aheadworks, and MageWorx) and group peer support to advanced SaaS third-party solutions (such as ShipperHQ, NOSTO, Akeneo, Klevu, etc.) aimed more at Magento users, there is a whole world of additional features and support available for the Magento platform. While all of these premium technology companies have now spread to other platforms, they are still very concentrated on Magento.
Magento's mature status as an eCommerce platform and its role as the leading online retail platform also mean that its eco-system involves a wide range of well-established Magento experts, from developers and consultants to design agencies – from all over the world. In some respects, Magento's success here is something of a double-edged sword, as it means that while there are many more seasoned and accredited experts available to Magento, competition for the best talent is strong and the fees are high. There are also several less experienced development vendors providing cheaper prices, which can also create problems with reliability and scalability – again due to the mainstream status of the product and the money surrounding the platform.
That said there is no other platform that has Magento's eco-system and, Magento's emphasis on community-driven projects and even core contributions is a major part of that. Magento's partner program is now much more oriented on quality (as opposed to being purely dependent on license sales as it has been in the past) and the new certifications are intended to help traders verify Magento 2 experience/knowledge by the developer or organization.
Limitless customization
The natural implication of using an open-source platform (which is often most widely used as an on-site solution) backed by a well-developed ecosystem is that Magento provides nearly unlimited customization. If the functionality feature is not already natively available, there is a very good chance that a third-party developer has already developed an extension to provide the functionality. If the functionality cannot be sourced from an existing extension, it is a relatively simple task to create your own extension or to modify existing modules/functionality. Again, this is a double-edged sword.
Magento's extensibility is seen as both a pro and a con – while this opens up Magento as a solution for more complex companies, there are thousands of Magento sites out there struggling with scalability, reliability, stability, or efficiency as a result of needless customization that has affected other areas of the platform. This is a common problem with Magento and one of the key drivers behind traders switching to SaaS alternatives that do not allow back-end customization. We've seen a lot of cases of unstable Magento stores that ended up this way by editing core modules, building bad-quality modules, and general construction practices that are not best practice. The other issue with this is that traders are vulnerable to this and are unable to verify the accuracy of the code or solution – this is where a platform like Salesforce Commerce Cloud helps to win deals by offering more assurance about improvements to the platform.
That said if you look at this from the other hand, Magento is able to fulfill more complicated requirements such as mixed basket with custom product types (e.g. third party booking engine or membership tickets), complex subscriptions, custom product types, heavy product customization/personalization, marketplaces, complex customer service, native PWA, etc. As long as you stick to best practices, customizing Magento is ok – it's likely to have an effect on things like updates and the overall cost of maintaining the platform at some stage.
There are also several examples of Magento headless stores or Magento being used only as a checkout – this can also make things simpler by separating the main parts of the interface to minimize Magento's complexity. Other examples of systems that support this approach include PIMs, better use of ERPs (order management, base product information, etc and subscription management platforms.
Chances are, whatever you're looking to do – whether it's building a marketplace, integrating with a complex bespoke ERP, or integrating with multiple booking engines, chances are it's done. This isn't necessarily a positive thing, and there's every shift that the method might be sub-optimal – but it's far easier to find references to Magento than most other sites (this applies to the enterprise end of the market too).
Advanced testing capability
Getting the site from staging to production is like practicing and then competing in a competition. To ensure that everything goes smoothly, you need to give your utmost attention to every little detail.
Magento has a comprehensive test enablement suite that can halve the pre-release defects. This means fewer bugs and unhappy customers, saving you time and money. Magento provides a Functional Testing Framework (FTF) based on PHPUnit-a developer-oriented testing framework with a proven track record and consistent performance. Your QA team can also use it if you have one.
One of the most significant benefits of FTF is that it comes pre-packaged with standard test scenarios that affect the most important functional processes in your shop. You can run any of these tests, or pick a few, or even one. All errors are logged correctly and provided with screenshots.
There are several other features in FTF, but the bottom line is simple-Magento has a solid suite to automate (partially) the test cycle and dramatically boost the quality of your shipped Magento code. This frees your developers and makes your customers happy at the same time. It's also cross-platform and runs on any OS, so that's another headache the developers don't have to think about.
SEO
It's hard to get yourself on the radar since there are so many shops and companies vying for the same keywords. That's why search engine optimization is still a huge part of a successful online business. Inbound leads that come from the hunt for some of the lowest acquisition costs and a reasonably high conversion rate.
That's where Magento stands out. It has a wide variety of SEO customization tools. Index management helps you to monitor the connections that are passed on to the search engine. There are a number of standard discoverability features, such as the HTML and XML sitemap variants. Prefixes and suffixes, canonical tag management, and other features are also available. For example, the ability to add images to your sitemap (instead of just pages). Your SEO guy won't have any problems optimizing the search engine shop.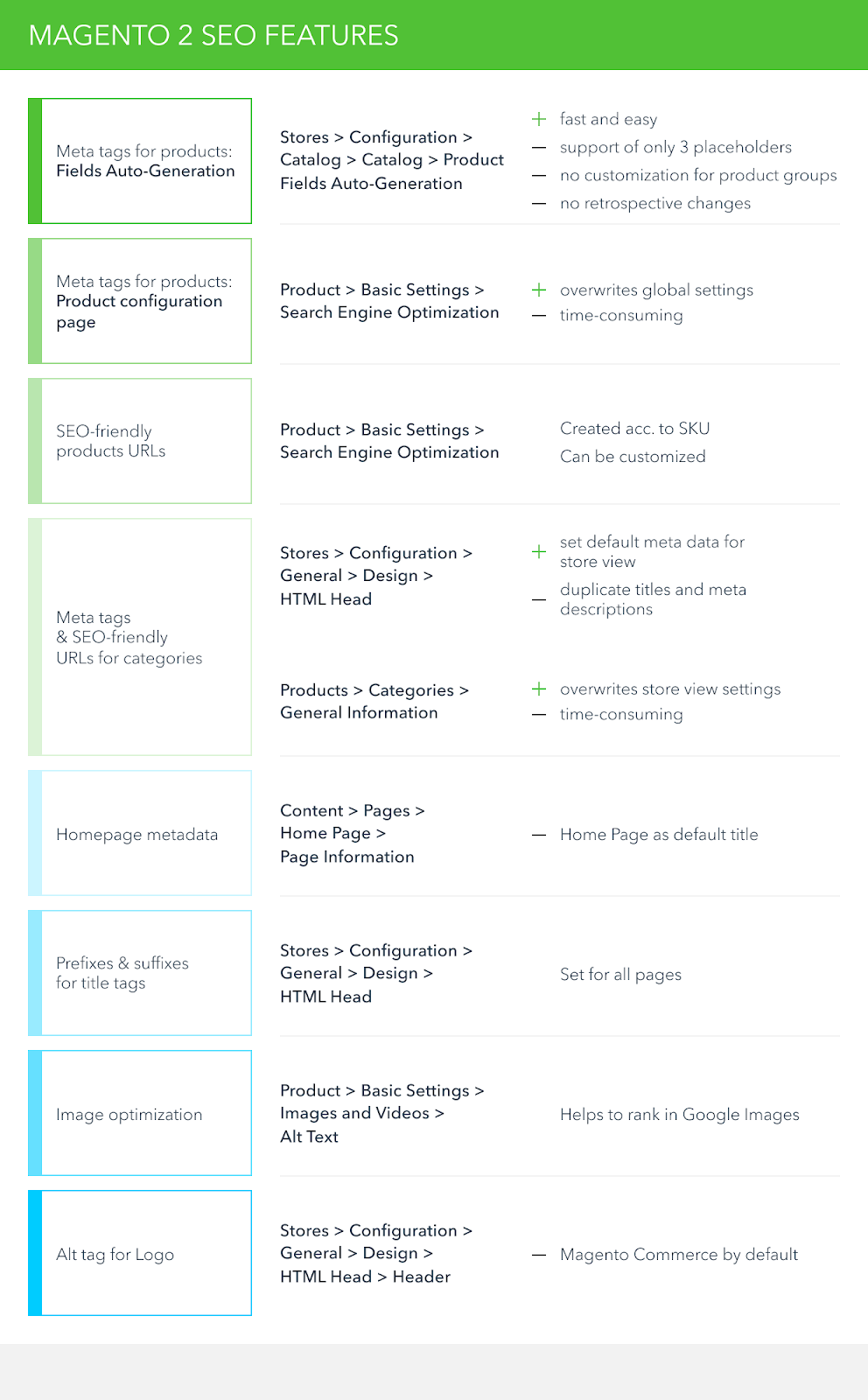 But the regular functionality is not what makes Magento stand out in this regard. It's the amazing ecosystem of specialized SEO extensions provided by different vendors. They make handling SEO even easier, with constraints on editing that won't let you delete anything important. A lot of them have built-in best SEO practices that won't let you go beyond the metadata character cap, as an example. Most of them are equipped with a user-friendly UI that allows anyone to easily update product details without the need to consult your SEO specialist.
Some of the notable products in this category:
SEO Supreme WebTex Suite
SEO Toolkit from Amasty
Ultimate SEO Suite of MageWorx
Some of the helpful features added to these extensions include SEO templates for your metadata, which are very useful for larger stores with thousands of items, many of which require explanations and titles. Many of them also have extended rich snippets that allow you to add the breadcrumbs navigation of the site to the search results.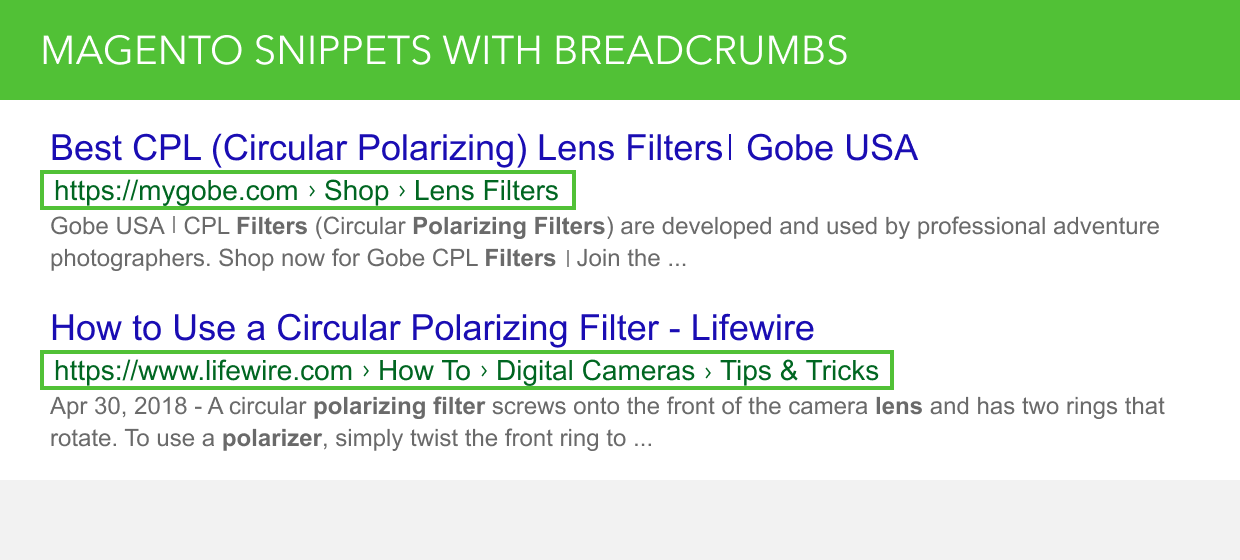 Optimum scalability
We do this when we start a small business, with a view to expanding later in the future. As the company expands, our e-commerce site must be able to accommodate an increased number of goods and sales. Some of the e-commerce platforms may not be able to handle this growth and may impede the company's development, but Magento can handle it easily, from a handful of goods to thousands of them. Magento is completely scalable, so if you're selling 100 or 1,000,000 pieces, Magento can deal with it easily.
In reality, Magento can approximately support up to five hundred thousand items and thousands of transactions in an hour. It's a remarkable advantage since you can customize Magento without any restrictions.
A large user community
Magento is a top e-commerce platform, so naturally, there is a large and vibrant community of users and expert Magento developers who contribute to the development of extensions and plugins. This has helped to ensure accelerated assistance. In addition, the broad community has encouraged several extensions and plugins to be created. As a consequence, if you have any issues, you're likely to get more help because there are endless tools to solve your problems.
The Magento Group has more than 360,000 members of the Forum, 8,000 certified developers, 5,900 contributors, and 1,150 partners. Magento contributors will help you find urgent solutions to any issues with your online shop.
Mobile friendly
Recent reports show that 84% of businesses that have invested in mobile networks have seen an increase in new customers and sales growth. Magento is a mobile platform that allows you to quickly build a mobile website and provide customers with the best mobile experience.
Magento Mobile provides seamless storefront integration, which is handled on a range of devices (iPhones, iPads, and Androids). In addition, Magento Commerce has launched the Progressive Web Applications (PWA) Studio, a suite of tools for developing online stores with easy front-end interfaces on mobile devices.
But let's take a look at some of the drawbacks that could discourage you from considering Magento 2 as your next e-commerce platform. The pros and cons of Magento go hand-in-hand with each other because of the comprehensive capabilities of the platform.
4. The Cons of the Magento e-commerce platform
Among its many benefits, we need to consider certain drawbacks before using Magento as an e-commerce platform.
High Cost
All of the native features and customization ability that Magento has to offer comes at a cost, of course, and for most of the implementations, the TCO for Magento is likely to cost considerably more than for a variety of other platforms we've listed. If your eCommerce needs are fairly normal and limited in terms of custom features, separate stores, international specifications and catalogs), the cost advantages of selecting one of the SaaS platforms would soon become apparent.
In addition to the basic licensing costs (which have risen considerably over the last few years), there are additional costs involved in covering third-party extensions and applications. Although Magento's functionality is rich and well-developed, there are several areas where clients choose to source an external app to provide the necessary functionality. Klevu for site search, NOSTO for product recommendations, ShipperHQ for shipping, Akeneo for PIM, Avalara for tax, and Yotpo for UGC (reviews, Q&A, Instagram content, etc) are all examples of more business functionality that is often created outside Magento, and each of these solutions comes with its own licensing costs that need to be factored into the overall TCO.
The general trend with Magento at the moment is that all related costs are rising, in our experience of working with Magento 2, construction costs and on-going development costs are approximately 50 percent more costly (in terms of the time it takes to do things with Magento). We'd say that Magento is pretty much starting from ~£75k/$100k today, even with Open Source (which doesn't really have any real effect on building price). This is at the bottom, with the larger Magento 2 builds going up to millions, particularly with the more enterprise systems integrators now working with Magento.
In addition to these types of production costs, you still have substantial maintenance costs, arising from items like bugs, security fixes, etc, and then updates – all of which have been pushed up since Magento 2. Maintenance retainers appear to start at about £1,500 a month and can go deep into double digits and updates have become even more regular with Magento 2, which can add a lot of unknown costs. This is also the case where added complexity continues to add a multiplier to support and repair costs.
As the trend to go completely headless is accelerating, this is an environment that certainly deserves consideration when reviewing prospective platform solutions as it can potentially reduce front-end development costs and reduce on-going costs and complexities on the front-end. That said, it's still a very new approach, and most of the structures widely viewed are still immature and do not have too many scale production stores.
QA and UAT specifications
Due to the dynamic nature of Magento and its ecosystem support, it is unavoidable that Magento's development projects should have a robust quality assurance and testing process (as with any enterprise platform). Compare Magento to Shopify Plus, for example, where the core product is effectively locked and managed by Shopify, and it is easy to see that the open design of the Magento platform carries with it some time-consuming and expensive obligations. However, when you look at some of the monolithic platforms, such as Oracle ATG, IBM Websphere, or SAP Hybris, Magento is still much more straightforward. One thing we would say is that additional QA testing comes as a result of Magento going up the food chain and allowing more sophistication – this is a normal progression.
Factor in Magento's recent history of introducing security updates and improvements, and you soon know that QA cannot be taken lightly or hastily with Magento. All this extra time translates into costs – both in terms of personnel time and missed potential costs incurred by delayed releases and version updates.
That said, SaaS systems still need a lot of QA, it's just that there are inherently more moving parts with a more complex, on-site model and probably less platform-specific information required.
Time for Launch
Despite this being typically an area that has changed – Magento is not going to win any awards when it comes to the average time it takes to start a project while competing against the SaaS platforms. Things like catalog setup, server configuration (and on-site optimization), data import, and difficulty in creating a Magento theme mean that projects appear to take longer to launch than for example, Shopify Plus or BigCommerce. Custom modules and integrations also need further development, which also adds to this – while that said, Magento builds are usually more complex.
Of course, this may or may not be a matter for each individual store, but given that longer launch times usually result in higher prices and increased chances of having problems, it is worth listing as a possible drawback. In a world where time to market will make a difference between profit and loss for that trading period, a platform that takes a long time to introduce, a long time to evaluate and a long time to train workers is at a distinct disadvantage.
Require a decent hosting environment
Magento needs a strong hosting and store management environment. Compared to other sites that can run reasonably well everywhere, Magento will perform poorly if the website is not properly hosted and set up.
Running Magento on shared hosting can lead to slow and poor customer service. Our development team recommends that our dedicated server hosting clients provide optimum efficiency and scalability to e-commerce stores. Magento Commerce Cloud is hosted on the cloud, so you don't need to think about your hosting.
Depending on the business complexity and operating costs, the hosting cost will start at $5 and can be more than $1,000 a month.
Expensive Product Support
Magento's product support is very costly, as developers and consultants handsomely charge Magento compared to WordPress. In addition, funding for the Magento Forum is not what you would imagine it to be. Magento's Official Support Forum is plagued with spam due to a lack of coordinated monitoring. This is one of the downsides of Magento's choice.
Imagine having a dilemma of your own concerning any Magento issue and not finding any useful solutions or worst falling victim to the scams. This could be disastrous.
5. Conclusion
Deciding which eCommerce platform to use is a dynamic and sometimes difficult thing to do and it is a process that must take into account the strengths and limitations of each platform in isolation, as well as all other platform choices.
Will Magento fail to fulfill its practical needs? Most definitely, indeed it will. Will you be able to find and maintain a strong team that will perform on time and on a budget? Almost definitely, yes yes. Will Magento be able to compete with other challengers in terms of ownership costs and time-to-market for new features – possibly not.
We're still a strong supporter of Magento, but we do think that the market is evolving, and Magento is now better suited to particular use cases and styles of retailers, as opposed to traders of all shapes and sizes as it has been before.