Grouped products are those product that you can sell in a group. You can add existing product in a group and sell them. For that, you have to create Simple product first then add it into Group.
Process to create Grouped Product:
Admin->Catalog->Manage Product->Add Product->Select Attribute Set->Select Grouped Product
Fill General field

Name: Enter name to your grouped product
SKU: It is the unique identifier for your product
Status: Set Enabled to display product at front-end otherwise do not display
Visibility: Set product visibility for your product

Set image to your grouped product
Description of your product
Inventory Setting

Manage Stock: Select yes to manage stock
Qty: Enter quantity of your product
Qty for item's status to become Out of stock: Set value to show the your stock become out of stock
Minimum quantity allowed in shopping cart: Set minimum value limit that you allow at your shopping cart
Backorder: If you set Allow Backorder, it allow to place order when product is out of stock
Notify for quantity below: When ordered quantity not available in stock, it accept order and send notification to customer
Enable quantity increment: If it is set to Yes it will sell your product in increments of entered value
Stock Availability: Set In Stock to show availability of product at front-end, otherwise it will not display

Select Website
Select Category to assign product
Add Associative Product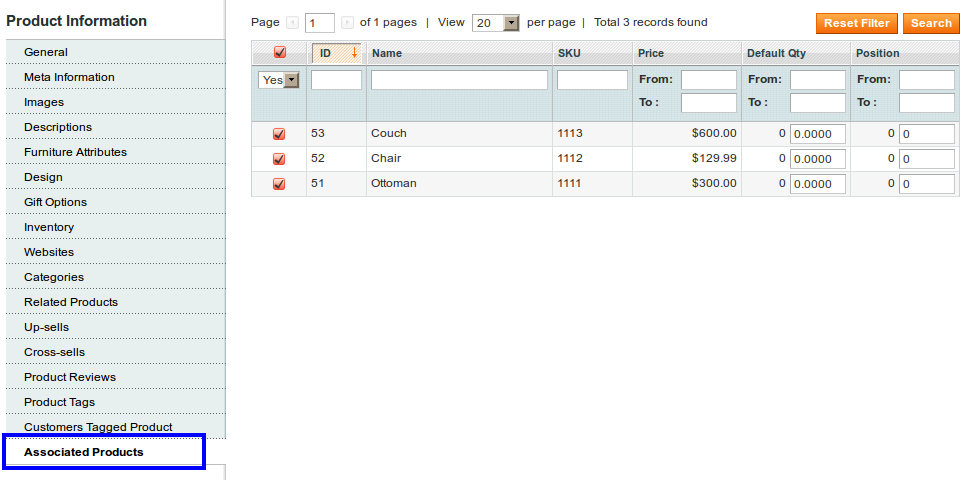 Select Associative product, existing product list will appear then select check box of item that you want to include in a group.