Sept 22, 2021 | 8 min read
5 ways you can use Shopify buy buttons to sell your products
1. QuickRead
It's possible that a Shopify store isn't your first or only online presence. Before thinking about selling things online, many people create a following on external sites or blogs.
Some people may desire to maintain their presence on external sites or blogs after opening a Shopify store. You don't always have to send consumers to your Shopify store to make purchases in these situations. By integrating the Shopify Buy Button on external sites, you may start selling your products. The tiresome procedure of clicking away to a different page is eliminated with buy buttons, making the shopping process easier for customers.
We'll go through how to set up the Buy Button for your Shopify products, as well as the benefits and drawbacks of using it.
2. What is the Shopify buy button?
"Shopify buy button enables retailers to generate an embeddable product card and checkout that can be placed on any type of website," according to Shopify. "Shopify creates the embed code for you, allowing you to present your products in the way you want."
Although there are various ways to characterize this tool, it's clear that the Shopify buy button is a plugin that you may put on your Shopify products/collections, as well as on any blogs/websites. It can display product images, descriptions, and prices while also allowing users to make purchases without leaving the site. It also displays all updates to a product's details made in the Shopify admin. The button allows you to build a shortcut on your external sites that allow clients to see and purchase your products without having to navigate to a separate page to complete their order.
Let's say you're in the business of selling cosmetics. As a beauty blogger, you're also an influencer. You create a WordPress blog article outlining the steps to having beautiful skin with a skin-care programme that includes your products. When someone reads your blog article, they have the option of purchasing your products by clicking on the purchasing button you've included in the post. They may place an order without ever leaving the blog or visiting your store.
Even better, all Shopify plans allow you to add a buy button sales channel. This button can also be used to establish checkout links. Then you may send it to your consumers by email, direct messaging, or a social media post. Last but not least, you may track the Shopify buy now button from your Shopify admin. Your Dashboard will show you when customers place orders for your products.
3. How to set up the buy button Shopify on your website or blog?
After learning about the advantages of Shopify's buy button, I'd want to show you how to add the button, also known as an embedded cart, to your Shopify store. We'll walk through the procedures of adding a purchasing button, which allows you to embed your products on other websites or blogs and have customers purchase them from there.
Read the steps below carefully to gain a better understanding:
Sign in your store dashboard as Shopify admin
Choose sales channel
When we click the plus symbol for sales channels, it will bring up a list of options for us to choose from, so we'll just click the Buy Button. We'll select "Add"/ "Plus" from the drop-down menu.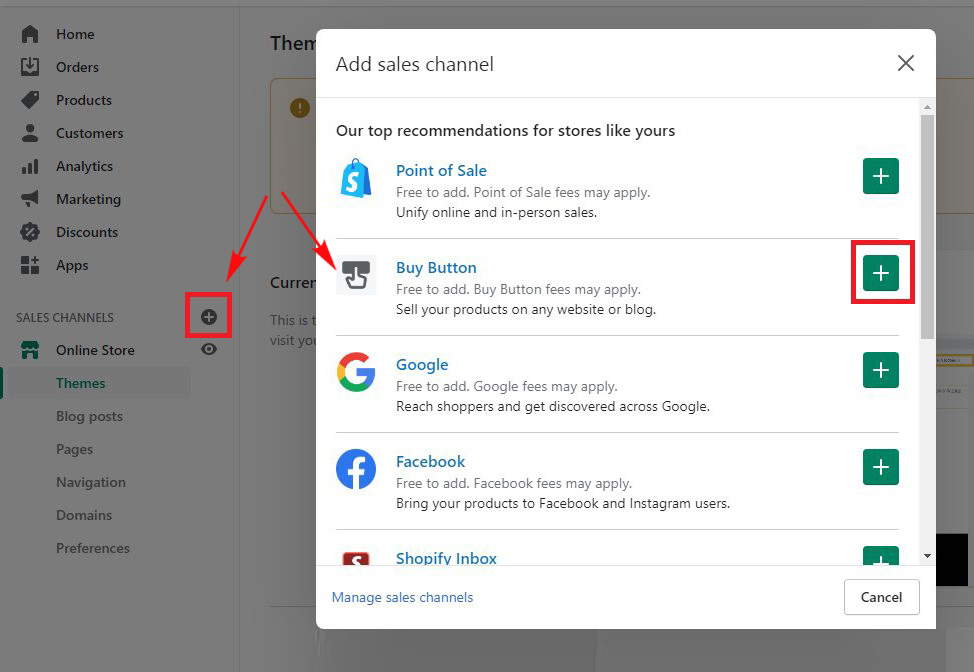 The buy button sales channel is now implemented, and you can always return to it by clicking the Buy Button in the left-hand menu.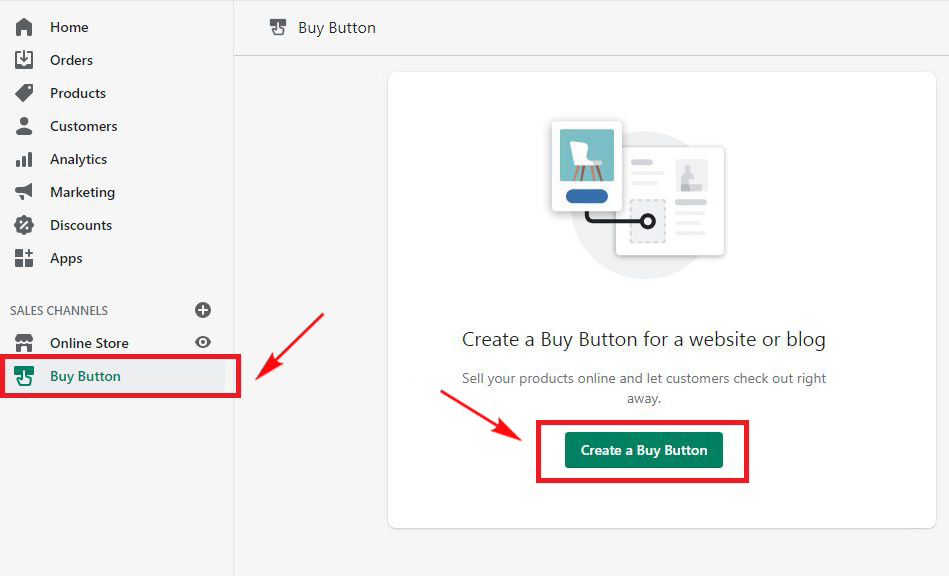 Click Create a Buy Button
Then you can choose between Product and/or Collection to display on your external websites or blogs.
Select the first option here if you only want to incorporate specific products into your site: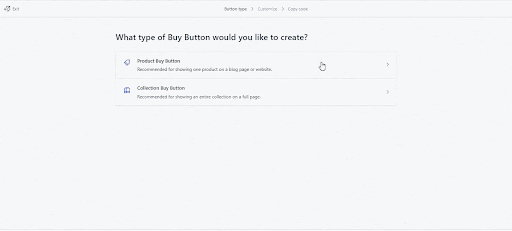 Choose the second element below if you want to show the whole product collection to embed into your site: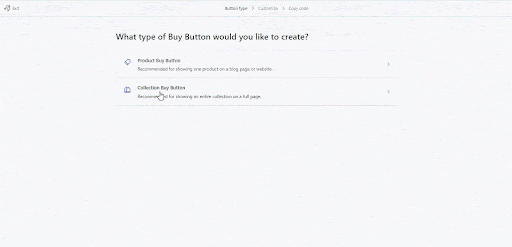 Edit the buy button Shopify style as your favorite demand
You can customize the color of your button, background, text, cart panel, and the location of the button's checkout link. Then, to produce embed code, click "Next."
Get your buy button live
You can have the button live on your sites by copying the code and inserting it into the HTML editor of the webpage where you want to display it.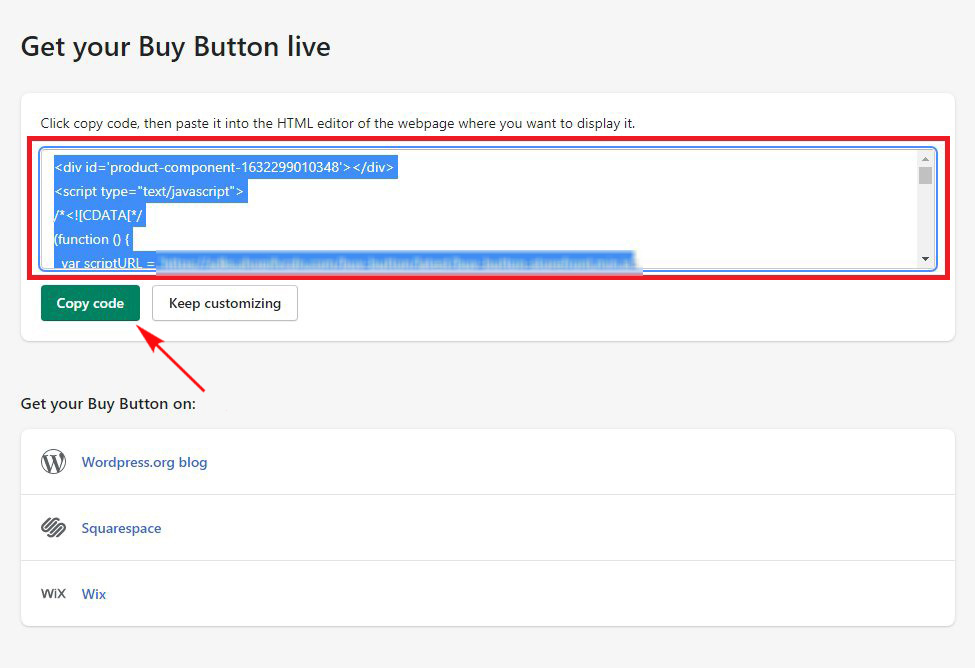 If you want to include a purchasing button for your production collection at the end of your blog, for example. You can select the blog's code and paste the code you copied at the end of the content coding process.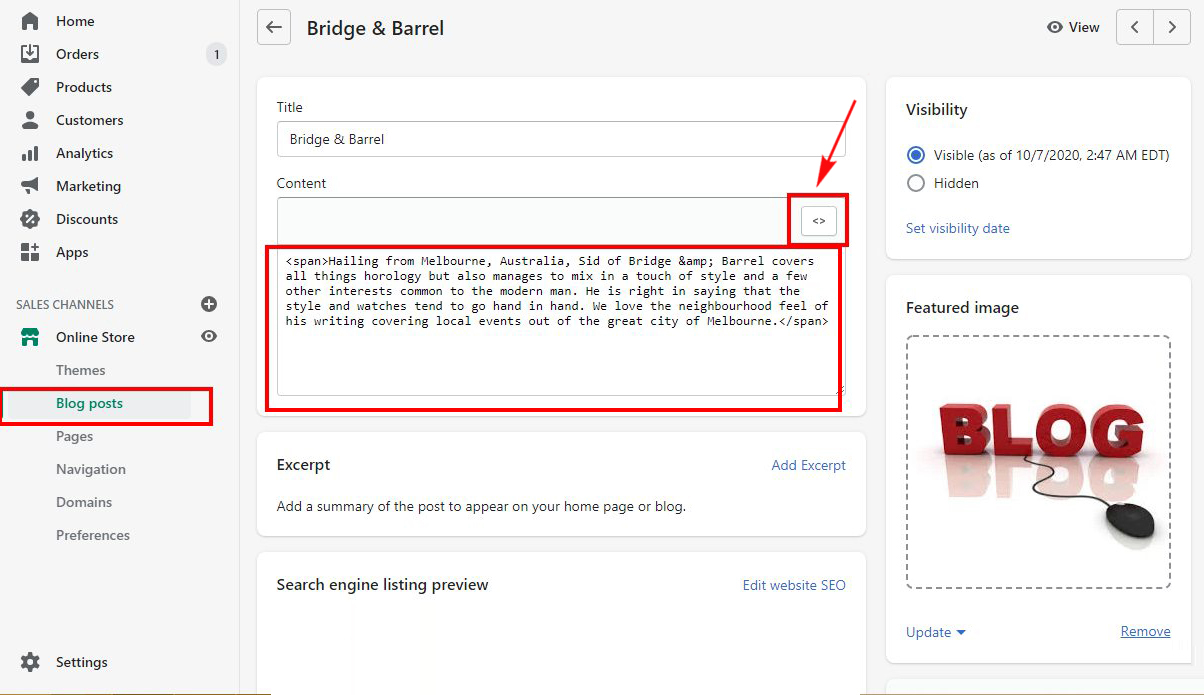 On Shopify, this allows you to get the product list with the buy button. Then repeat the process for each site to which you wish to add the button you developed. You only need to add code to the HTML editor of the sites where you want the Buy Button to appear. Refer to
Adding Buy Button Code
to HTML for more information.
4. Five ways to sell on your websites or blog by using Shopify buy now button
The introduction of the buy button, or Shopify's "buy now" button, in particular, is revolutionary for bloggers, artists, authors, influencers, and others who don't run full-fledged e-commerce enterprises but wish to sell a few products. There was never a solution that permitted them to sell on their website or blog in the past.
They needed to create a separate online store from their primary websites or blogs. The separation of sites jeopardizes the possibility of a unified shopping experience.
The Shopify "purchase now" button is not only a call to action for potential buyers but also simplifies the purchasing process by eliminating the time-consuming procedure of navigating to a different page. By embedding a single buy button or a group of products, anyone can quickly integrate e-commerce into any website or blog. The Shopify Buy Now button can be used in a variety of ways to increase sales.
Adding products to your landing page: As previously said, you can embed the produced code into any landing page to add and sell your products. You have complete control over where you place the button.
Selling directly from your sidebar: Say you have an appealing blog with a large readership of potential consumers. You may now sell your single products right from the sidebar of your blog. The Shopify purchase now button is a simple way to get started without having to create a whole online store.
Selling directly in your content: The button can be adjusted to match your site's theme by changing the color, size, and other aspects. You can quickly introduce your new product on your blogs if you do it in this manner.
Using error pages to your advantage: It may sound unusual, but a well-designed error page can be advantageous to your business. While 404 pages are annoying, you may add a buy button to keep visitors intrigued and earn a sale rather than losing them. Use your imagination when it comes to words!
Using any platform to sell: If you aren't ready to open a whole store yet, you can sell on any platform by employing the button in the early phases of your business. Squarespace, WordPress, Tumblr, Wix, and Weebly are just a few examples.
As a result, there are five distinct ways to use the Shopify buy button to increase your sales. You can quickly study and select the best method for your company.
5. Shopify buy button examples to discuss the pros and cons of the buy now button
The following examples of Shopify buy buttons will be used to explain the benefits and drawbacks of using a buy now button.
According to builtwith.com's Shopify Buy Button Usage Statistics, 18,458 websites use this button, which provides geographical information, hosting data, and contact information. There are now 2,836 live websites and 1,598 domains that redirect to sites in this list, for a total of 15,622 sites that have used this technology previously. The majority of the sites, similar to Shopify localization, use button locations in the United States, United Kingdom, Canada, and Australia.
The advantages of the buy button Shopify
The embedded button can help users feel more connected. Customers can purchase things on external sites in a straight line with this button, which does not interrupt their experience. It allows you to sell your products on any external sites or blogs with a large amount of traffic. As a result, you won't need to send them to your Shopify site to make a purchase.
Furthermore, by using the button, you will eliminate the need to migrate all of your content to your Shopify store, ensuring that you do not lose your search ranking, visibility, or traffic. Finally, the Shopify button's success may be measured using the analytics tools provided by Shopify.
The disadvantages of the buy button Shopify
The button has one disadvantage: it does not interface with Shopify apps. If you need to alter your products using other apps, for example, the change will be made straight in your Shopify dashboard. If you don't directly alter information in the Shopify dashboard as a Shopify admin, it won't add to the purchasing button you've already put on your site.
If you use other apps to alter your products, please test the buy button in these circumstances. On the other hand, because the button normally only works with the basic Shopify product details and customization, you may have to send users to your Shopify store.
6. What should you do now?
You should now have a good understanding of the buy button, which can be readily inserted into any website or blog to assist anyone in selling their products. If the merchant already has a well-established external site with a lot of traffic, it can be really beneficial. If you want to add an e-commerce component to your websites, you don't have to move all of the product information from your separate store to your sites.
You may easily connect your products to platforms like WordPress, Joomla, Drupal, Tumblr, Wix, Weebly, Squarespace, and Blogger using the steps outlined above. To receive the most benefit from the purchase button, bear in mind its restrictions and attempt to emphasize its benefits.
Now you have all you need to start selling things on your own websites and in your own business. Why not use the Shopify Buy Button on your websites and blogs to boost sales right away?