Bigcommerce Development Services
Online Stores selling more with Bigcommerce

Bigcommerce is an online store builder that provides power to tens of thousands of online stores. You can do everything on your own, including adding items, uploading photos, processing orders, creating profiles, making discount coupons, and more. Bigcommerce is fast growing into one of the most popular ecommerce systems, with no coding or design required.
Bigcommerce Services that OSC provides
Bigcommerce Store Development
Would you like to get the best first impression? For your shop, pick the right BigCommerce model that Impresses your visitor. We're here for you to do that.
Bigcommerce Templates and Theme
If the web design of your page looks just plain old and obsolete. Don't worry! We are here to help custom bigcommerce model design to make your site look creative and beautiful.
PSD to Bigcommerce Store
Do you want to convert your PSD files to the Bigcommerce website? Get in touch with us. We have a team of developers who are experts in this domain. We will convert your PSD files to amazing feature-filled Bigcommerce-compatible ones.
Theme Customization
Are you thinking about updating the theme of your store? If so, we have got a team of designers to do this for you. We offer themes that are fully responsive and personalised to help you improve the reputation of your product.
API Development
API Experts at OSC Professionals are seasoned, having successfully developed Bigcommerce APIs for many customers. If you wish to create your Bigcommerce store's API as well, all you have to do is get in touch with us, recruit our developer and get the best services for API development.
Bigcommerce Migration
Migrating to Bigcommerce! It's a great move for your online business. We have migrated over many ecommerce stores to bigcommerce
Maintenance & Support
Trust us to execute all your needs efficiently on the Bigcommerce online store and then maintain them too. We have several plans on offer, one of which will definitely suit you.
Why Choose OSC for your Bigcommerce Store Development
Value for Money
Service Quality Assured
Goal-oriented Workflow
Dedicated Team of Bigcommerce Experts
Timely Support and Maintenance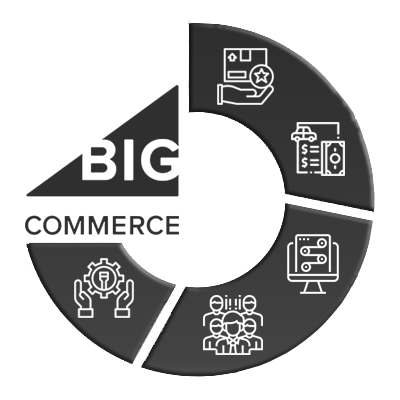 Bigcommerce Features- Save Time and Boost your sales
You can sell everywhere
It allows you to sell in marketplaces like Amazon etc. Your products are imported directly into the channels you wish to connect so you don't need to add product details manually on each channel.
Abandoned Cart Saver Future
A worthwhile feature in Bigcommerce. The app automatically sends 3 reminder emails to guests who have not completed the checkout process. This has the potential to convert prospective customers who have abandoned their carts mid-way through the buying process.
Set your own promotion rules
You have the choice to personalize coupon codes and discounts for your products. Plus, you are allowed to display banner ads to promote these offers. The innate system lets you create and place banner ads more easily. BigCommerce offers Cart-Level Discounts. That means discount will apply to the shopping cart in real time.
Bigcommerce Payment gateways and transaction fees
The lack of alternate payment methods can result in a loss of sales since customers only opt for payment methods which they are comfortable with. Bigcommerce has an expansive range of payment options encompassing almost all possible gateways so that customers do not abandon their orders for lack of a comfortable means of making payments.
Automate the most difficult task
Bigcommerce offers a lot of automation tools in their process. You can automate shipping rate and tax calculation using the tools such as ShipperHQ , Avalara.
Grow your store worldwide
Bigcommerce allows you to market your products to customers worldwide. The tax rates and shipping costs are automatically computed and added to the shopping cart.