Archives for the blog category
Blog
How and why to set Front-End catalog flat indexing to true?
How to create Custom Indexes?
In this section, we will explain how to create custom indexes in Magento. There are following steps which is used to create indexes.
Which tables are used in Magento Indexing?
What is Magento index_event table
What is Magento index_process table
What is significance of each column in Admin related to indexing interface?
Index Status
A Magento index has following three statuses.
pending
working
require_reindex
You can check constants for these process statuses here
(Class Name:Mage_Index_Model_Process)
const STATUS_RUNNING = 'working';
const STATUS_PENDING = 'pending';
const STATUS_REQUIRE_REINDEX = 'require_reindex';
Index Process
This is basically a wrapper for the indexer itself and can be found in the table index_process. It has the following information:
Indexer code
Current indexer status
Start and end times
Mode
What are indexing present in Magento?
Following are the indexing types
Product Attribute's
Product Price
Catalog URL Rewrites
Product Flat Data
Category Flat Data
Category Products
Catalog Search Index
Stock Status
Tag Aggregation Data
Why Magento needs indexing?
Indexing is used to improve speed or performance of our web store. Indexing is how Magento changes data such as products, categories etc. As data changes, the changes data must be changed or reindexed.
For Example: Suppose you change the price of an product from $4.99 to $3.99. Magento must reindex the price change to display it on your Front-End.
How to executing Magento Indexer?
There are different ways to executing Magento Indexer
From Magento Admin (Admin Configuration)
Through Shell
Set by Cron
1. From Magento Admin (Admin Configuration)
To understand how indexing works and to reindex when needed. Go to Magento Admin Panel
System -> Index Management
2. Through shell:
Magento: Performing Magento Indexer from shell.
Magento uses re-index data from the Admin Panel. A good way to re-index data from command shell because in some condition when we want to re-index data we will get an error message and re-index process will be broken.
In Magento, there is a folder with name "shell" in this folder, you will find with name indexer.php.
This is a shell script for re-indexing.
Shell folder path: Go to your [ROOT FOLDER/shell]
First, cd [Your project url]/shell
Execute reindex-data using following command

Command: php indexer.php –reindex

By default there are 8 indexes in Magento

catalog_product_attribute Product Attributes
catalog_product_price Product Prices
catalog_url Catalog Url Rewrites
catalog_product_flat Product Flat Data
catalog_category_flat Category Flat Data
catalog_category_product Category Products
catalogsearch_fulltext Catalog Search Index
cataloginventory_stock Stock status

Following are the individual commands for re-indexing
hp indexer.php –reindex catalog_product_attribute
php indexer.php –reindex catalog_product_price
php indexer.php –reindex catalog_url
php indexer.php –reindex catalog_product_flat
php indexer.php –reindex catalog_category_flat
php indexer.php –reindex catalog_category_product
php indexer.php –reindex catalogsearch_fulltext
php indexer.php –reindex cataloginventory_stock
1] Use a secure and strong password password
Magento is the Most Powerful and Secure Framework in eCommerce. But there are certain tips that you can follow in order to make sure your Magento store is safe and sound. When you are select your Magento site password, select cleverly. Depending on your configurations and permissions, this password may give access to customer information.
Choose Difficult Password:
The Magento Admin Password must be different from Username and Special Character and Numerical Character. We ensure that your password is secure make it lengthy by adding as many characters as possible which are not only letters but punctuations and numbers too.
Most Of time loose and small password are reason of hacking the site. So use the powerful and difficult password to the FTP. Prevent your website from the Hacker using strong and lengthy password.
Do Not Save Password In Computer:
Some time Developer save there FTP and Admin Password in computer, to use regularly. But when the site is live that do not remove there password from computer. So that is easy to hack the website. To secure your website from Hacker do not save your FTP password. Also do not save password of admin on browser.
Here are some tips for creating a really secure and strong password:
Bigger is superior, use at least 10 characters.
Mix upper and lower case, punctuation, and numbers.
Making your password vocal can make it easier to remember and type quickly.
2] Do not use your Magento password for anything else:
Do not use Magento password with any other websites or web services. Third party sites may support SSL (Secure Sockets Layer) to login. In the event that a third party websites is hacked, your password may be vulnerable.
3] Change Your Magento Admin path:
Generally, you access your Magento Admin panel by your sitename.com/admin. Using the path to your admin panel path easily guessable means that someone or something can try to guess your password.
How NOT to change your Magento Admin path:
System → Configuration → Advanced → Admin → Admin Base Url

Most Important Note: Do not use the admin base URL settings. It will break your site.
How to change your Magento Admin path
There is an easy way to change your Magento Admin path.
1. Exist /app/etc/local.xml
2. Find <![CDATA[admin]]> and replace 'admin' with the path you would like to use So if your local.xml file says <![CDATA[testbackend]]>, your admin path will be /testbackend.
4] Expect HTTPS/SSL for all pages with logins:
In Magento, you can expect secure logins by selecting "Yes" for both "Use Secure URLs in
Frontend" and "Use Secure URLs in Admin" by going to the "Secure" section of the "Web" tab in the system configuration.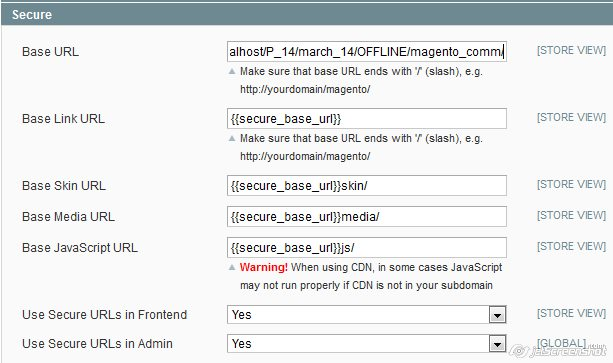 5] Put up-to-date anti-virus software:
Computer viruses and Trojans can pick your data and log your key strokes.
6] Disallow Scripting Executatin under full permission folders like Media, Uploads:
1. If your server is Dedicated or VPS you can add following configuration in your httpd.conf to preventing scripts on Specific folder
<directory /your-dir-path>
AddHandler cgi-script .php .pl .py .jsp .asp .htm .shtml .sh .cgi
Options -ExecCGI
</directory></span>
2. If you Dont have an access for httpd.conf you can also set it with .htaccess like following
AddHandler cgi-script .php .pl .py .jsp .asp .htm .shtml .sh .cgi
Options -ExecCGI
Use 444 Permission for .htaccess after adding quote
NOTE :- Put that .htaccess code under the directory where you want to dis-allow scripting.
7] Allow Admin Login From Specific IP Address:
You can Apply that configuration under .htaccess to limit access for admin area
AuthName "Protected Area"
AuthType Basic
<Limit GET POST>
order deny,allow
deny from all
allow from 114.143.5.69
allow from 49.248.5.
</Limit>
8] Block countries where you are not doing business:
You can block it using IP tables Rule on Server
http://www.cyberciti.biz/faq/block-entier-country-using-iptables/
9] Set proper permissions and ownership settings:
The safe Magento is to set chmod 755 on directories and 644 on all files with the exception of often created/deleted files like session or cache files will need chmod 755.
For More Refer Magento Link:
http://www.magentocommerce.com/wiki/groups/227/resetting_file_permissions
10] Use Sftp Insted of FTP
11] Remove your RELEASE_NOTES.txt after Installation
12] Don't save export files with sensitive information into folders accessible on the web
Technical points related to Magento Speed Optimization considered by us while optimizing Magento for Speed:
In our series of Magento Speed Optimization blog, we will discuss on configuration, template, server points that will helps speed up your Magento site.
Speeding up Magento sites takes a long list to perform. You can go through the following tips for optimization.
A) Magento Template Related:
Use of image sprites to reduce number of request
Optimize images for size
Remove unwanted css code and minify or reduce your css code
Remove unwanted js code and minify or reduce your js code
Specify Image Dimensions
Apply javascript lazy-loader for images if you have lots of images on your site
Use some webtest tool to analyse number of requests and other html related data for download time
B) Magento Admin Configuration:
Make sure enable Flat Catalog
Make sure enable Compiler Mode
Merge css and js (Used Fooman Speedster Module)
Delete additional stores if not in use
As per requirement, Log should be minimized according to number of days
Disable Log Settings in magento
Remove Admin notification module
Improve magento database Log Cleaning via admin
C) Server Environment:
Enable Gzip compression in .htaccess
Use nginx
Use of APC
Use query cache
Use Apache mod_expires
Use a Content Delivery Network (CDN)
Enable Apache KeepAlives
Load cache on RAM if memory permits
Reduce hard disc file reads and try reads from RAM as this is faster
Upgrade PHP version to above 5.3
Session to be on RAM
Make sure cron is run so as to clean logs stored in data base
Your cron file should be run in specific hours
Disable the PHP open_basedir directive
Eliminate directory structure scans for .htaccess files
D) Additional Tips:
Use FPC.
Remove all modules not in use by removing there .xml file
If possible, use Ajax
Don't use CMS blocks
Do not use many various external sources.
Abbreviate number of searchable attributes as these result in columns in flat catalog table and will slow down your search.
Use of Solr search. It already exists with EE version but it can be installed with CE.
Minimize customer group as suggested in comment.
Make sure your css code check through W3 validator because errors slow down the browser.
Use of getChildHtml ('childName') is recommended as this will cache block against direct use of block code in .phtml file.
Remove unwanted blocks. (Number of blocks are executed that are not used or displayed.)
If using FPC make sure your containers are cached and repeat request for container is delivered via cache. Improper placeholder definition results in container cache not being used but each time new container content getting generated.
Analyze page blocks and variables and if possible add those variables/blocks to cache.
Remove directory structure scans for .htaccess files.
Use Google page speed firefox extension like Yslow.
If on EE make sure that most pages are loaded without application initialization. If one container needs application initialization its going to effect execution speed.
Please visit our Magento Speed Optimization
Service Page
for further assistance.